As the year comes to an end, we could talk to you about results or intellectual prep (which we love!) or about our incredible AF teachers (whom we love even more!), but instead, we are focusing on what inspires us more than anything else: our scholars – and our deep belief that they will provide the future leadership we need. In 2018, our scholars WORKED HARD on their academics, and they worked hard to be good teammates to one another. And many of our scholars also found time to bring about change during a challenging time for our country and our world. Here are just a few of those moments we're celebrating as we reflect: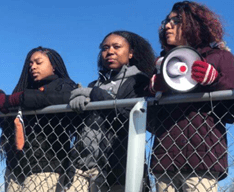 We were so proud to see our students at AF Amistad High join the nationwide fight against gun violence, as they
marched in solidarity
with students from Parkland. AF Bushwick Middle fifth-grader Kavon and AF Aspire Elementary fourth-grader Navaeh grappled with topics from current events like family separation at the border, the economy, and more, appearing in
BET's digital series "Are You Kidding Me."
AF scholars
spoke truth to power
, proudly defending their international heritage at a time when immigrants everywhere are under attack. Janelle, Jirelys, Sheyla, and Ariana from AF Bridgeport Academy Middle School
founded Project Homeless
. They've raised hundreds of dollars to donate to the Bridgeport Rescue Mission to fight poverty.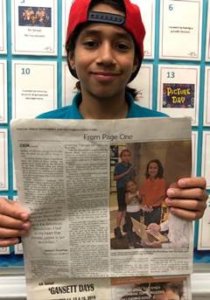 Jeremi from Achievement First Providence Mayoral Academy Middle met with the Rhode Island Department of Environmental Management, and was quoted in the newspaper: "We learned about the Haitian Revolution, the French Revolution, and the American Revolution. I feel in my heart that climate justice is our revolution." Our kids are college bound, and building a better future for all of us. In 2018, that meant
1,586 college acceptances for our 304 seniors
, and we will keep climbing as the first acceptances for the Class of 2019 roll in. These may seem like small things, but
they are everything
. These moments keep us coming back every day. We remain optimistic that together, with the hard work of our incredible staff and students, 2019 will bring brighter days and new opportunities to be the ones we've been waiting for. So we hope you all get some rest, take time to unwind, and share gratitude with the ones you love. We'll see you in January, ready for all the incredible moments next year will bring. Happy Holidays!