Firsts and high achievements illustrate Isabella's story.
Throughout her academic career at AF, she read and did math above her grade level. She excelled and always did extra credit. She secured scholarships and recognition for academic excellence. At the sam
e time, she started her own business, served as a mentor to her peers, built a social media presence, and became an Amazon Prime student ambassador. Soon, she will graduate from North Carolina A&T State University,
one of the nation's top-ranked historically Black colleges and universities
(HBCU). When she does, she will be the first person in her family to graduate from college.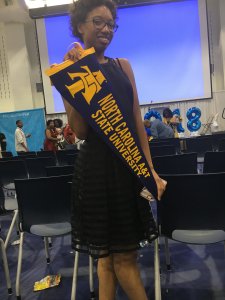 Isabella knows she was not gifted any of this, she worked incredibly hard to get here.
That's been especially clear throughout the last few years. She took the fall semester of her sophomore year off due to a family emergency. Then, Isabella felt set back. But during the hardest times (that only got more challenging), Isabella repeated "this is temporary, not permanent," like a mantra. Throughout the pandemic, she worked two jobs, she took classes through the summer, she did not have a 'semester break' like her peers.
This was her normal.
And for Isabella, it was worth it – because she was able to stay on track to graduate. As a first-generation college student, it feels like everyone's looking up to her, and that's a lot of pressure. But Isabella is also clear on her purpose, even if it does have more than one definition. Her studies - from the time she entered the halls of AF Bridgeport Academy Middle to when she walks across the stage and receives her diploma - helped her understand the real world and made Isabella think differently. 
She sees a world of infinite possibilities where she can command a courtroom, where she succeeds as a social media influencer, and most importantly - create spaces for young Black girls. This will be Isabella's story.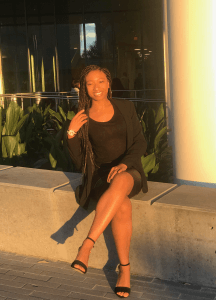 She dreams of having a hand at cultivating the next generation of Black leaders. Isabella has shown dedication to this through her work as a mentor at
AF Camp
and in the HBCU Initiative Mentoring Collective. She's showed it through her decision to attend an HBCU where she's been able to find her voice and get involved in social change movements. And she's shown it by being Isabella. She knows it does not matter what field she's in. She may be in a classroom, a courtroom, or a board meeting where she's trying to promote a brand. This will always be her ultimate goal.
What's next in Isabella's story? She is graduating this spring with a degree in sociology and a pre-law concentration. During her last semester of college, she's back at Achievement First as an intern who is managing the
AF Alumni Instagram page
. And what's on deck after the internship and graduation? Applications for law school, digital marketing, and branding programs. 
Whatever comes next in Isabella's story,  it will be earned, not gifted. And Isabella will make sure she takes what she earns to make the difference she seeks.