Anthony Rosario is a member of our External Relations team at Network Support.
Anthony (left) and his family when he was a child.
When I was younger, Hispanic Heritage Month meant taking out the flags of the Dominican Republic and Puerto Rico. I'd tell my classmates all about where my family is from, the food we eat, speak some words in Spanish and play music "we" like to listen and dance to.  That's what I thought I was supposed to do, and so I did it.  Over time, I realized that my parents and my extended family in the Caribbean don't celebrate this month, and they didn't  get why it exists "aya fuera" ("out there"—AKA, the continental U.S.). As I've grown older, I have thought about the meaning I give to this month.  I have learned through school and lived experience, that Hispanic Heritage Month is more than just about flags, food and celebration.
I was born and raised in New York City. I have an American passport. I speak English and Spanish fluently. I have attended public and private schools. And yet, I am different from other people who have had those same experiences as a United States citizen/resident.  I feel like I have been existing in two distinct worlds all my life. In one world, I have grown up as a U.S. citizen that has had a pretty privileged life, relatively speaking. In the other world, I have lived an immigrant experience with extremely strong ties to people outside of the U.S. mainland. I felt like I didn't totally belong in the U.S., and I didn't totally belong in the island nations that my parents and extended family called home. This month has helped me appreciate my roots and also the complexity behind identities.
Regardless of how complex this identity is, I feel myself identifying as Latino/Hispanic, and I carry that with me everywhere I go, including work. I bring my heritage with me when I talk about my large family of close to 200 including aunts, uncles, and first cousins, when I translate a student recruitment document into Spanish, and when I speak to AF families in Spanish on the phone or at school.  When I can help a family understand admissions at AF and talk to them in Spanish about the questions they can't explain in English (or that they are shy to ask in the presence of English-only speakers) my identity shines through.  I can show them that I "get them," and some families find comfort in that. I also bring my identity to work when I care for my coworkers like they are extended family.  Sometimes it's challenging to work with people that don't totally understand you and your experiences. You don't always speak the same language, and you have a multitude of differences between you. There comes a point when you finally understand each other, and you find commonality.  When I find comfort, trust, and joy with my coworkers, it's like they are finally part of the extended family.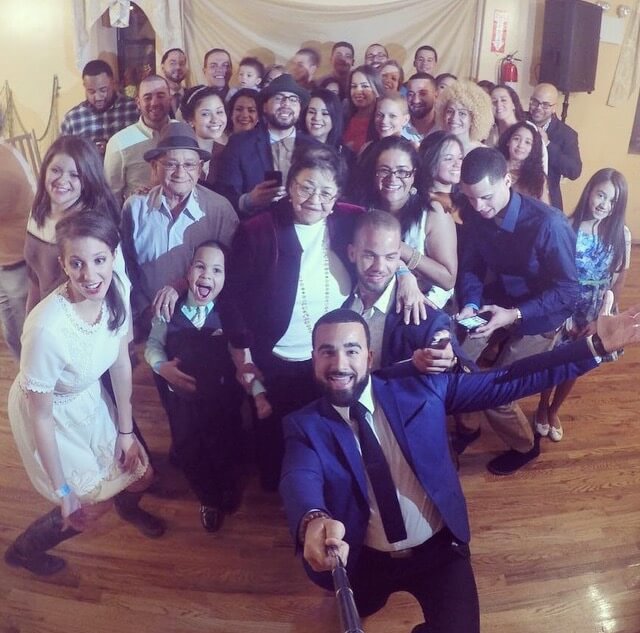 Anthony (back right) poses with family.
Recently there has been a unifying force outside of shared identity—the natural disasters in Mexico and the Caribbean have brought many people together to help others recover.  I was emotionally affected by the news, but I was most personally affected by Hurricanes Irma and Maria.  Hurricane Irma was the first to pummel through the Caribbean.  I was concerned for my family because it grew into a Category 5 storm and there wasn't a way to get them out of Puerto Rico.  Luckily Irma wasn't a hard hit to the island. But it still knocked out water and power to my family and to many on the island.  I talked to my family every day to see how they were doing and if they had the necessities.  They were OK and mostly annoyed that it took them almost a week to get power and water restored.
When my family had their power and water back on, they thought things going forward would be business as usual, but they were wrong.  About two weeks later, Hurricane Maria finished the destruction that Irma started.  At 9:30 a.m. on September 20th, I had the last conversation with my family before hearing on the news that Maria as it entered the island, knocked out the weather radar, power to the majority of the island and all telecommunications. I found myself inconsolable knowing that my mother and the majority of her large extended family were now in the middle of the worst hurricane the island had seen in almost a century. The island has been slowly recovering since Maria left both Puerto Rico and my emotions in shambles.  Since the Hurricane hit, I've finally contacted my family.  I was able to bring my mom and pregnant niece to the mainland to live with my sister in Florida.  All of my family members are working together to provide family in Puerto Rico with money and the things they need to get by.  For those that can no longer safely be on the island, we continue to try to get them safely to the mainland where we will have to adjust together to a new reality. I am beyond grateful for my large extended family for support during this recovery period.  It will take time to rebuild but we know we are in this together.  I no longer celebrate this month by waving flags and showing off all the wonderful things that make up my culture, I celebrate this month knowing the strength of my family and the communities that surround us—here in New York and in the Caribbean.