At Achievement First, we know that our students' success is powered by the loving community around them. Additionally, we know parents are kids' first and most important teachers. Working in close partnerships with parents and families, our students believe, achieve, and repeat. Boundless opportunities await within our halls and in the world because students lead lives of leadership and purpose.
Emmanuella saw firsthand how her son grew into a leader and built a deeper understanding of himself at AF Voyager Middle. She knows that her son, Graham, will excel at anything he puts his mind to. During her time as an AF Voyager Middle parent, Emmanuella saw Graham develop into a young adult with many interests.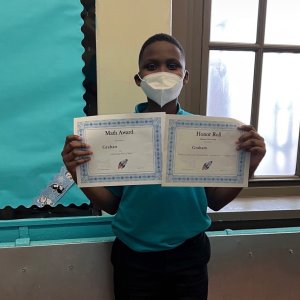 When Graham walks the halls, attends club meetings, and participates in the classroom he does so with enthusiasm and confidence. She credits that to Graham's teachers, school leaders, and AF Voyager Middle community.
What she appreciates the most is the AF community's ability to treat kids as their own.
Since the 5th Grade, Emmanuella and Graham embraced everything AF Voyager Middle had to offer. Graham joined the Anime club. He developed a love for coding and excelled in subject areas like Math. Now, as an 8th grader at AF Voyager Middle, Graham still keeps in contact with mentors and past teachers, and that cultivated his interests.
Simultaneously, Emmanuella did the same and motivated her son to reach his full potential. In addition to cultivating his passions at home, she constantly looked for opportunities to help his school. Emmanuella was the president of the parent council and volunteered for school events and potlucks.
Through and through, the community fosters an inclusive environment where parents and kids can build boundless opportunities and be who they're meant to be.
And Emmanuella hopes the values he learned at Achievement First will live on forever. "The school teaches its kids to have pride in their culture and love and see themselves as kings and queens," says Emmanuella.