Looking back at her academic and professional careers, Leslie says she would tell her thirteen-year-old self, "You are worthy and deserving of anything you want." Leslie always remembered to 'strive for excellence' and worked incredibly hard to get where she is today. She credits this feeling of being worthy to her time at Achievement First, both as a student and teacher. During her time as a middle and high schooler at
Elm City College Preparatory Elementary
and
AF Amistad High School
, she learned the values of discipline, consistency, enthusiasm, respect, and honesty. Outside the classroom, Leslie fondly remembers aspects of school life - preparing for exams over breakfast with peers and participating in school chants.
This engaging academic experience prepared Leslie for college and her professional career. More importantly, Leslie says that it helped her build character.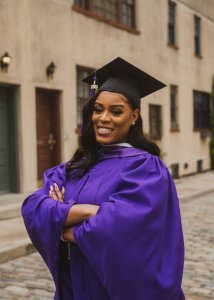 "These morals stuck with me at an early age because I saw them everywhere," says Leslie. "Sure, you may do it for rewards at first, but then 'doing the right thing' just becomes instinctual. Character builds when you do the right thing when no one's watching. I still carry this quote with me today." Like many students, Leslie had long nights of homework. She did the required reading assignments and always aimed above the bar. Why? Leslie says nothing worth having is going to come easy. Her advice is to take the journey and find out what you love to do. For her, that journey is toward a life in school counseling and leadership. In 2018, after graduating from the University of Connecticut and before starting her master's degree at New York University, Leslie came back to Achievement First as a teacher in residence. During her time at
Amistad Academy Elementary
, Leslie realized that her calling was in counseling. Though she enjoyed helping students succeed, she found a greater calling to help kids beyond the classroom. "Emotions are something that you are bound to for your whole life," says Leslie.
"Helping students in that way is so important because giving them emotional intelligence will only help further propel them towards a better education and life for themselves."
Leslie's already preparing for the next step towards her ultimate goal of a school leadership position: an Educational Specialist (Ed. S) degree at George Washington University. At the conclusion of
George Washington's Leadership and Administration
program, Leslie hopes to become an assistant principal. Her strive for excellence and story is just beginning. And whatever chapter comes next, she knows that it will be earned. Just like every single page and achievement thus far.