Political Representation
We know the importance and impact of representation, particularly for traditionally underrepresented groups. This is one of the many reasons why the Biden-Harris victory is so significant.
Kamala Harris will be the first woman, first Black person, and first South Asian American to serve as vice president of the United States. Harris is now the highest-ranking official ever elected to the United States government, her ascension through the ranks shattering gender and racial barriers. On the evening of November 7th, Harris delivered her historic acceptance speech where she acknowledged the women, particularly Black women and women of color, who fought for democracy, liberty, freedom, and paved the way for her success.
One of those women was Shirley Chisholm. In 1968, Chisholm was the first Black woman to win a seat in Congress, and four years later, she ran for the Democratic presidential nomination. Her campaign slogan—"unbought and unbossed"—meant she was a candidate for the people, a voice for the disenfranchised that could not be bought or bullied into submission. Nearly five decades after Chisolm's run for the presidency, Harris—the daughter of Jamaican and Indian immigrants—took the stage in Wilmington, Delaware in her first address to the nation as the vice president-elect of the United States.
"But while I may be the first woman in this office, I won't be the last," said Harris in her historic victory speech. "Because every little girl watching tonight sees that this is a country of possibilities. And to the children of our country, regardless of your gender, our country has sent you a clear message: dream with ambition, lead with conviction, and see yourself in a way that others might not see you, simply because they've never seen it before. And we will applaud you every step of the way," she continued.
Media Representation
We need representation in our heroes, both in real life and in the media. Those from underrepresented groups realize that media portrayals can influence how others view them, and even how they view themselves.
Marvel's 2018 Black Panther was a box office hit and a groundbreaking moment for the Black community. Black Panther was a major step for depictions of women of color in STEM. In the film, Shuri, the younger sister to T'challa—the Black Panther—is an incredibly talented engineering mastermind whose inventions prove critical to the functioning and safety of her homeland. She's smart as a whip, witty to boot, and she happens to be a 16-year-old princess.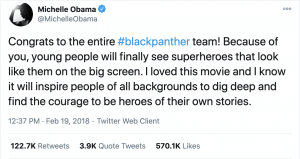 Letitia Wright, the actress who plays Shuri shared, "it was cool to play an African princess who's the smartest in the whole world". "That never happens. So I hope all the young girls can feel smart, too," she said.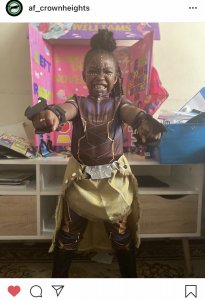 Achievement First Crown Heights Elementary scholar on Wakanda Day.
Representation in Education
As educators, we also know how vitally important it is for students to see themselves reflected in this work because it shapes what they imagine to be possible. A 2018 Johns Hopkins study revealed the significant role of teachers of color, finding that If a black student has just one black teacher by third grade, that student is 13 percent more likely to enroll in college. This number increases to 32 percent if a student has two black teachers.
Whether it's the Oval Office, the box office, or the principal's office, representation matters.