Jami is a 2016 graduate of AF Amistad High and a member of the Haverford College Class of 2020. We sat down with her find out more about the college leg of her journey.
What is your major? Why did you choose that major?
I am a newly declared political science major and history minor! Coming from a place like Amistad, and being a black female during such a politically provocative time, I am innately passionate about social justice. My first year of college, I had no idea what I wanted to major in, but I knew I wanted to get involved in the social sciences. In high school, I loved all my classes so that made it hard to choose. Since I knew I was a great writer, I pursued disciplines like English and art history at Haverford. After taking classes in various subjects, I realized my love for political theory and public policy. I took a chance on myself, and took an American Economics and Politics class and really loved it! I am a history minor because I've been a history buff since I took eighth-grade history with Mr. Widmeyer at Amistad Academy Middle school. It's key for political science majors to have a thorough understanding of contingencies in history to broker future policy.
What is your favorite thing about college?
My favorite thing about college is all of the friends that I've made here at Haverford, and the relationships that I've built on campus. Haverford is home to some of the greatest minds and kindest souls that I've met, and because of these people I don't think I will ever regret my college decision. Everyone here is always willing to help you, but most importantly make you a better person. Because of our Honor Code, people are incredibly honest and always have your best interest at heart, whether they are your professor or someone you sit next to on the Blue Bus to and from classes.
How did Achievement First prepare you for college?
I'll be forever grateful for the motivation and work ethic that Amistad has instilled in me. Sometimes when I'm over-analyzing something, or spending a lot of time ensuring a project is precise, I realize that my time at Amistad made me this way – and I am better for it. At Amistad I learned persistence, how to stay focused and how to self-advocate even when I may not want to. The pre-college program at Amistad exposed me to a lot of different disciplines, and I was inspired to pursue them in college. My freshman year of high school, I attended the Bryn Mawr Blue Tree Summer Program, a writers workshop. Bryn Mawr is Haverford's sister college, and we have a consortium, so I love taking classes there now! Later in high school, I attended the Pennsylvania State University Science Leadership program where we conducted nanotechnology research, and there I stepped outside my comfort zone academically. During my final year of high school, I attended the Skidmore Pre-College Program, where I was able to do some Anthropology ethnographic research with a professor there, and I also was able to take a Social Theory course there that I really enjoyed. [caption id="attachment_5161" align="alignleft" width="300"]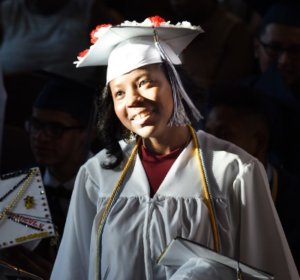 Jami during AF Amistad High's graduation in 2016.[/caption]
What are you favorite activities at college? 
I'm pretty busy here at Haverford because of all of the activities that I'm involved in. I am currently the Co-Head of the Bi-Co Women's Club Soccer Team for Haverford/Bryn Mawr. Additionally, I am the Outreach and Advertisement Coordinator of a religious group on campus called Firm Foundation. A lot of what I do is digital promotion and graphic design. I help the club get in contact with students who may be interested in working with us and bringing more attention to what we do. I also work with the Haverford Department of Audio Visual Services. I really love this job because I not only get to set up for great speakers and performers that come to campus, but I get to meet and connect with them about opportunities as well! This job has allowed me to a lot of amazing writers, professors, and artists, and tap into academic conversations that I wouldn't normally have if I didn't have this job. I'm also a part of the Haverford College Democrats. Our aim is to get Haverford students more involved in local elections and democratic initiatives on campus. In the future, I hope to run for Student Council at Haverford, and become more active about making changes where they are needed.
 What career/field do you want to pursue after college?
After Haverford, I plan to go to graduate school and get a master's degree in public administration. My desire for public equity goes beyond my time at Haverford, so I would love to gain more education on how I can be a better asset to society, and what being a leader in a community looks like economically and politically. Though I cannot pinpoint my dream job, I would love to work in the public sector, lobbying, policy analysis, or go into non-profit management. Who knows, maybe you can vote for me for president in 2040?
Jami, you've got our vote! Thanks for sharing your story.