Naiema Carolina is the founding director of school operations at AF Aspire Middle School in Brooklyn.
I have always lived up to the definition of my name. Naiema means "the one who gives" and from an early age, my internal compass has pointed me toward a life of compassion and generosity toward others. I am the eldest of 6 children, and we were raised in a Brooklyn community that was neglected, where seemingly ordinary necessities and services were scarce. I began to question what biases were responsible for the disregard of the citizens in my neighborhood, and I wondered why our obstacles were graver than those of others. This experience made one thing clear: the vast economic disparities we live with have a huge impact on our access to opportunities. By the time I was in high school, I vowed to dedicate my time and energy to ensuring that the people in my neighborhood had a voice. Giving back to the community that raised me showed me the power of investing in the people and places that nurtured us. My activism and my community service in Farragut and Fort Greene, an area that was, and continues to be, heavily populated by African Americans, was prompted by the realities we were faced with. I grew up proud of being Black and at the same time struggling with the awareness of what it means to be Black in America: where our black men are being shot and killed, mass incarceration of African Americans is an epidemic, more and more children are being raised in broken homes and plagued by poverty. In my family, I am the trailblazer, and the first one to go to graduate school and attend an Ivy League university. I am the product of the sacrifices made by my grandparents and great-grandparents who came from South and North Carolina at a time when the south was an especially hostile place for Black Americans to live.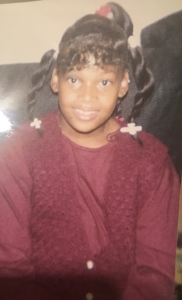 Naiema, during her childhood years in Brooklyn. The balance between service, pride in my community, and a refusal to accept society as it is informs so much of who I am as a Black professional woman. I have decided to pursue a career that directly tackles the most critical issues in Black communities. For six years, I worked for the National Urban League, doing civil rights and social justice work, but I felt like the work I was doing wasn't on the front lines. From there, I came to Achievement First to work with the finance team, providing financial assistance to schools, but that still didn't feel like I was doing enough on the ground. I know that Brooklyn students, Black and Brown children, need to see someone like me—a woman of color—in a leadership position. I want to be someone who is not only there for them and their families, but who is also a reflection of them. I connect with students and families because my life experiences mirror theirs in many ways. I also know what they're capable of and have high expectations to see them succeed. That's why I decided to take the next step into the education realm as a founding DSO for a brand new school in Brooklyn: Achievement First Aspire Middle. At this school, I vow to invest not just in our students' academics, but also invest in them as whole people. I want to be part of creating a school that impacts the trajectory of these students' lives—because when one person goes to college, that achievement affects the family and the community as well. I know that one day soon, the fifth graders who come through our doors in August are going to know that they're paving the way for their siblings, families and community members behind them. I recognize that they also may come through the doors with hardships. They might also lack access to basic necessities in life that everyone should have, like I did growing up. But I know my presence will ultimately demonstrate to them that there are pathways into success for us. I want to impact their outlook and their opportunities and help them to dream beyond what they have been shown.