Art teacher Michael Pedri has worked at AF East New York Elementary for more than a decade. During that time, he has made visual arts a core component of students' experiences, covering topics from materials and colors, to world cultures, specific artistic movements, and beyond. We sat down with him to learn more.
Tell us about yourself. What was your path to working in education and joining Achievement First?
I might be one of the rare people who left high school knowing that I wanted to go into teaching. I attended Buffalo State College, and starting my freshman year, I was a substitute teacher during my breaks. I've never looked back. After college, I worked at a K-12 school in the Catskills—where I'm from. I taught art, and then math and literature, coached cheerleading and tennis, and spent some time as a dean of students, so there were lots of opportunities to try new things. It was great, but the school was kind of tucked away. I was drawn to AF and to Brooklyn for the chance to create a program of my own. When I arrived at AF East New York Elementary, it was our first year as a fully-grown school, and there had never been a full-time art teacher. The music teacher and I started on the same day, and over the years, we've partnered on performances and built the specials program to make it as rich as possible so that every scholar gets a well-rounded education.
We're glad your journey brought you here! Can you tell us more about your class and the kinds of projects do you do?
[caption id="attachment_18544" align="alignleft" width="300"]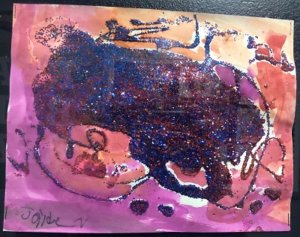 Kindergarten glitter art.[/caption] For kindergarten, it's mostly experimenting—we do a lot with glue and glitter, and some days, it looks like the Macy's parade went through! In first grade, we do more with paint and clay and start exploring materials and how they're used. In second grade, our frame is nature. We explore more formal elements and principals of art, like how to fill space, look at lines, make observations, and use shape and color. In third grade, we do people and community, so a lot of portraits and cityscapes. This is when I see scholars get into wanting to make realistic drawings—they think, why would you paint something and not have it look like the thing you're painting? Though we did a unit comparing abstract paintings of bridges with realistic ones, and they were all surprised they liked the abstract ones better! [caption id="attachment_18542" align="alignright" width="300"]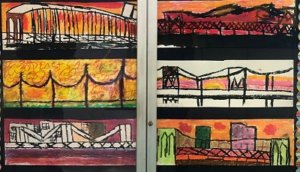 Third grade bridge project[/caption] In fourth grade, it's creative problem solving with elements and principles, like color, patterns, and words. We just made magazine covers, so scholars were using language and pictures together to create a message. They're thinking about what images are strong, what words are strong. One thing we focus on is that there's no "right answer" in art—there are multiple answer for different situations.
You've been with your school for 11 years. How has your approach changed over the years?
There's one thing I remember that totally changed my outlook: I was sitting in a train station
reading an article in National Geographic
. The article was comparing chemistry sets from the 1950s to ones of the present day (this was in 2011). In the 1950s, you got chemicals, a description of what they were, and a list of tools and how to use them. That's it. But now, you get a list of supplies and tools, and steps to take,
and
they even tell you what to observe. You gained more out of the sets from the 1950s because they allowed you to fail. Maybe something goes wrong, but at least you had ownership over the process and what you learned. [caption id="attachment_18541" align="alignleft" width="210"]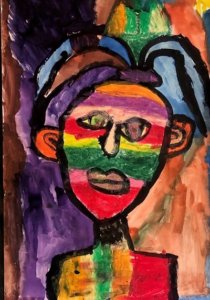 A mixed media portrait by a 1st grader.[/caption] I realized I was just helping my students follow directions—like the new chemistry sets—and it wasn't art. I decided to change and put the creative decision making back onto my students. Now, I go over the tools and supplies in class, and then I step back. For example, we did a portrait unit. I showed them how to use the brushes, I said the portrait needed to use color to aid in showing an expression, and then the students went to work. They know I'm not going to judge and that it's ok to mess up, as long as you keep going. A lot of art teachers complain that they don't have enough time to do their own art. I don't feel that way—to me, it's so validating when I see the kids' excitement for trying new ways to do things. I especially love it with the younger kids, before they're judging their work and worried about what things "should" look like. They really go for it. To have the privilege to be with them along their journeys is something I look forward to every day.
Given all the demands on students and teachers, why is it important to make time for art and other enrichments during the school day?
It all comes back to creative problem solving. [caption id="attachment_18543" align="alignright" width="300"]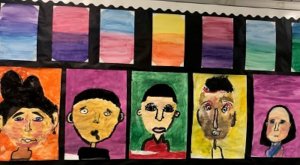 Color washes and expressionist portraits.[/caption] When I taught in the Catskills, one of my student's dad was a mechanic. He said to me once that he was trying to teach his son to be a mechanic, not a part changer. When someone brings in their car, he had to decide how to solve the problem, not just change the part. With art, poetry, music, or even math or engineering, there's always going to be a solution you can get to through creative thinking. If we don't provide opportunities for kids to use their creative brains, they won't be leaders, and they won't be successful. Sure, they'll follow directions well, but that's limited. That's part changing.
Do you have any cool projects coming up?
For our big spring project, we're getting ready to make murals. We're going to cover the whole school with big panels that the students will paint. I'm very excited to make our scholars' art a permanent part of our school.
That sounds amazing! We can't wait to see how it turns out—keep us updated.