Do you ever wish you could bring your friends and family to work with you? Well, through our referral program, you totally can! We're talking to AFers who've referred their loved ones, neighbors and BFFs to join us at AF to hear about how they're taking Team & Family to the next level.
MEET THE FRIENDS: Heather Nielsen teaches Foundations of Leadership and is a college counselor at AF Amistad High. She met Frankie Alicea when they were 14 years old and performed in the Greater Hartford Academy of the Arts' summer production of Guys and Dolls. They've been friends ever since, and Frankie now teaches theater at AF Hartford Middle.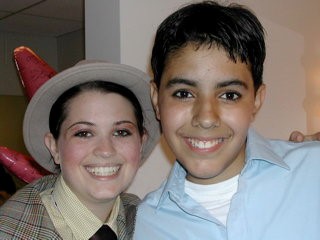 Heather and Frankie in Guys and Dolls.
We sat down with Heather to hear more about bringing Frankie into the AF fold.
Why did you refer Frankie?
Having started our journey together at a Hartford arts magnet school, Frankie and I have always been advocates for accessible arts education that empowers students. When I saw the theater position open at AF Hartford Middle, I knew Frankie would bring the passion and dedication necessary to spearhead a brand new theater department at the school. I'll admit my motives were also a bit selfish—it's nice to have a friend from outside work who understands my AF jargon. Now when we get together, we can talk about spiking in BOTH warm AND demanding, while marveling that we've become the adults who once taught us.
What's your favorite thing about working at AF?
The people! It is a privilege to work with such interesting, smart, passionate, dedicated colleagues who are all working as hard as they can for the good of our scholars.
Why did you think Frankie would be a good match for AF?
I knew Frankie would make a great addition to the AF Team & Family because I've always known him to do whatever it takes to make a student feel special and empowered to be the best version of themselves.
What's one fun fact about Frankie?
He can eat an entire tray of cinnamon buns in one sitting.
Ha! That's great. Thanks for sharing, Heather, and Frankie, we're glad you've joined us!
Do you know someone who'd be a great fit for the Achievement First team? Refer them today!