As we continue to reflect on our recent results, we're seeing glowing highlights across our network. We're shining the spotlight on just a few of these bright spots. Next up, we're heading to East New York.
AF East New York Middle students are outperforming their host district peers by an average of 50% points across math and ELA. The school made gains over last year in both ELA and math proficiency, the greatest being a 29% point increase in eighth-grade ELA.
To bring you more on the teachers and students who are making these incredible gains possible, Rochelle Murray, academic dean at AF East New York Middle, shared this reflection.
You know that heart-racing, sweaty palms, back and forth pacing you automatically start doing whenever you anxiously await to hear some news? That's the feeling I had while patiently waiting for our 2017 New York state math results (and for my teachers, think of that times 10!). It was during Friday professional development after the first two days of school when we finally heard the news of how our scholars performed. WE WERE COMPLETELY FLOORED! I immediately hopped on the phone to text a teacher who wasn't present to tell her the good news. The sheer level of excitement was beyond anything you could imagine! And equally so, it was an emotional moment.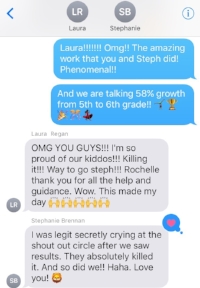 The gains that were made across each grade level were truly remarkable. They were transformative. Our performance represents a proof point that our scholars can defy the odds: Our scholars can and will achieve gap-closing results—a feat that many think is not possible. It all starts with believing in their potential and relentlessly acting upon that belief. So when I'm asked to name a teacher who just stuck it out and demonstrated ambitious persistence that drove these math results, I cannot name one teacher. It was the combined efforts of Merritt, Ubawike, Brennan, Regan, Gellos and Gretenstein. We believe in #rowingtogether and stepping in, no matter the grade level, with our sleeves rolled up to do #whateverittakes to push scholars towards continued achievement. This ranged from 7th graders having hallway check-ins with their former 5th grade teachers, Ms. Merritt and Ms. Ubawike, to Ms. Gellos huddling with the 8th grade teacher, Mr. Gretenstein about strategies that worked best for the kiddos she taught the year prior. We are a data driven, hungry for growth, consumers of our content, and demanders of excellence, type of team. But we recognize that it truly does take a village to support our scholars. Our success in math is a direct result of how we operate as team but compounded over time. So, there is no other option for our scholars but to receive consistent messaging and strong instructional practices year after year. Since I started as a dean in 2014, I attribute much of our ability to support our scholars' success to our team mentality—it's just what we do, and that is why #excellenceliveshere at AF East New York Middle.