Last month, Jasmin received an official citation during a Connecticut Charter Schools Association day of action. Though the citation recognizes her tutoring work at Greater Oaks Charter School in Bridgeport, it is also a testament to what she values the most. And that is caring for the whole person and give back to her community.
As a member of both AF Bridgeport Middle and AF Amistad High School's first graduating classes, Jasmin created lasting memories during her time at Achievement First. Jasmin did it all. She worked hard to excel in the classroom and received scholarships for her interest in political science. She also co-founded a world cultures club and enjoyed end-of-the-year school trips with her peers.
Her dedication only grew when Jasmin went to Fitchburg State University. She graduated a year early and knew what she wanted to do next: give back. In 2019, Jasmin joined Americorp. Through the organization, she found herself back in Bridgeport, volunteering in her community, and helping kids that share a similar journey. Today, Jasmin is currently pursuing a master's degree in accounting at the University of Massachusetts Amherst.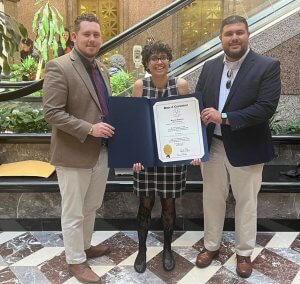 Though Jasmin admits math was challenging for her earlier in life, her teachers instilled a level of confidence. Those words ignited Jasmin's passion.
"In the last couple of days of the school year, my math teacher told us we were queens and kings," Jasmin recalls. "He added that we will go over and beyond once we're done at Achievement First. Moments like these remind me that how much you care makes a difference. My teachers showed me compassion and they made me feel like I mattered."
After she graduates, Jasmin hopes to provide families in the Bridgeport community with free financial literacy classes. Additionally, she dreams of one day working at a nonprofit to continue her pursuit of giving back.
"My message to all the kids I tutor and all the Achievement First students would be, 'You can make it,'" says Jasmin.
"I know it is cliche to say, but if you truly believe in it, you can achieve it. And while you are doing it, do not forget to help people, give back, and show compassion."