December is truly the most wonderful time of the year, and we've put together a winter book list to help you get into the holiday spirit! Our list features stories set in the snowy, winter season; feel-good, holiday tales; and chilling thrillers that you can curl up with all winter long!
Do you have more winter book recommendations? Send them to moments@achievementfirst.org and we'll add them to a future list!
Elementary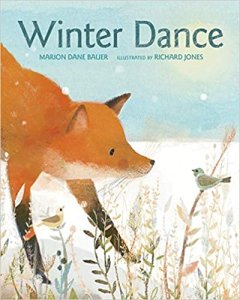 Winter Dance by Marion Dane Bauer, illustrated by Richard Jones
From Amazon: Snow is coming, and it's time to get ready! The squirrel gathers nuts, the geese soar south, and the snowshoe hare puts on its new white coat. But what should the fox do? Each animal advises the fox that its own plan is best, but the fox thinks otherwise—yet it's not until he meets a golden-eyed friend that he finds the perfect way to celebrate the snowfall. Stunning illustrations by the new talent Richard Jones are the perfect complement to the Newbery Honor winner Marion Dane Bauer's lyrical and playful homage to the natural world.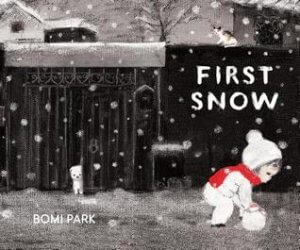 First Snow by Bomi Park
From GoodReads: Look out. Now look up. From the sky one flake falls, then another. And just like that—it's snowing. In this beautiful book from debut creator Bomi Park, a young girl wakes up to the year's first snowy day. From her initial glimpse out the window to her poignant adventures—rolling a snowman, making snow angels—the girl's quiet quests are ones all young readers will recognize. Simple, muted text and exquisite, evocative art conjure the excitement of a day spent exploring the wonder of snow—and the magic that, sometimes literally, such a day brings. As subtly joyful as a snow day itself, this book will find its home in the hearts of young adventurers everywhere.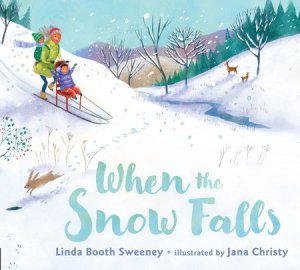 When the Snow Falls by Linda Booth Sweeney, illustrated by Jana Christy
From PenguinRandomHouse: A snow-day journey with Grandma highlights all of the beauty, magic, and fun of winter. With sparkling flakes calling from outside, this sister and brother bundle up for an outdoor adventure with Grandma. In the hushed woods, they see and hear wildlife thriving under a new blanket of snow.  In the bustle of town, they help their grateful Grandpa dig out. Then, it's time to get sledding! Snowy scenes capture the beauty of freshly fallen snow, and the lyrical verse delights in the magic of playing in the snow and the warm comfort of family.
Middle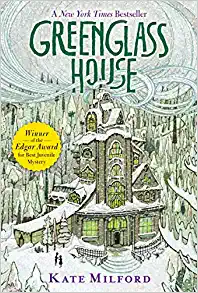 Greenglass House by Kate Milford
From Barnes and Nobles: It's wintertime at Greenglass House. The creaky smuggler's inn is always quiet during this season, and twelve-year-old Milo, the innkeepers' adopted son, plans to spend his holidays relaxing. But on the first icy night of vacation, out of nowhere, the guest bell rings. Then rings again. And again. Soon Milo's home is bursting with odd, secretive guests, each one bearing a strange story that is somehow connected to the rambling old house. As objects go missing and tempers flare, Milo and Meddy, the cook's daughter, must decipher clues and untangle the web of deepening mysteries to discover the truth about Greenglass House—and themselves.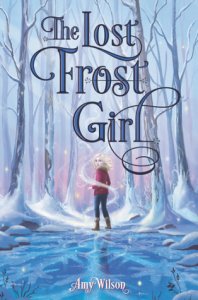 The Lost Frost Girl by Amy Wilson
From GoodReads: The Lost Frost Girl is an enchanting modern-day fairy tale about family, friendship, and the magic of embracing who you are meant to be. Owl has the kind of mom who would name her Owl, a dad she's never met, and a boy who gives her strange looks at school—but Owl has come to accept that this is as normal as her life is going to get. Until Owl finds out that she is Jack Frost's daughter. Determined to meet him, Owl delves into Jack's wonderful world of winter and magic—the kind of place she thought only existed in fairy tales. And as she notices frost patterns appearing on her skin and her tears turning to ice, Owl starts to wonder if being Jack Frost's daughter means that she has winter powers of her very own.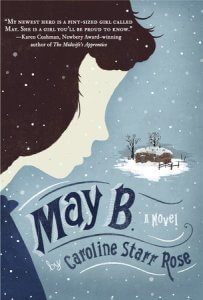 May B by Caroline Starr Rose                                                                           
From PenguinRandomHouse: I've known it since last night: It's been too long to expect them to return. Something's happened. May is helping out on a neighbor's Kansas prairie homestead—just until Christmas, says Pa. She wants to contribute, but it's hard to be separated from her family by 15 long, unfamiliar miles. Then the unthinkable happens: May is abandoned. Trapped in a tiny snow-covered sod house, isolated from family and neighbors, May must prepare for the oncoming winter. While fighting to survive, May's memories of her struggles with reading at school come back to haunt her. But she's determined to find her way home again. Caroline Starr Rose's fast-paced novel, written in beautiful and riveting verse, gives readers a strong new heroine to love.
High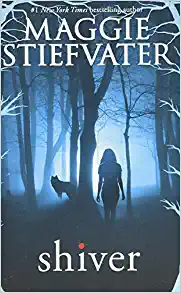 Shiver by Maggie Stiefvater                                                                           
From Amazon: From a dazzlingly talented young writer, a haunting and original supernatural romance in the vein of TWILIGHT.For years, Grace has watched the wolves in the woods behind her house. One yellow-eyed wolf–her wolf–is a chilling presence she can't seem to live without. Meanwhile, Sam has lived two lives: In winter, the frozen woods, the protection of the pack, and the silent company of a fearless girl. In summer, a few precious months of being human . . . until the cold makes him shift back again. Now, Grace meets a yellow-eyed boy whose familiarity takes her breath away. It's her wolf. It has to be. But as winter nears, Sam must fight to stay human–or risk losing himself, and Grace, forever.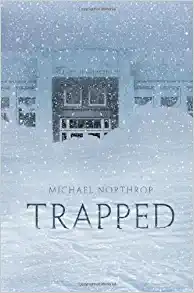 Trapped by Michael Northrop                                                                         
From Amazon: A chilling YA thriller from critically acclaimed author Michael Northrop. The day the blizzard started, no one knew that it was going to keep snowing for a week. That for those in its path, it would become not just a matter of keeping warm, but of staying alive. . . .Scotty and his friends Pete and Jason are among the last seven kids at their high school waiting to get picked up that day, and they soon realize that no one is coming for them. Still, it doesn't seem so bad to spend the night at school, especially when distractingly hot Krista and Julie are sleeping just down the hall. But then the power goes out, then the heat. The pipes freeze, and the roof shudders. As the days add up, the snow piles higher, and the empty halls grow colder and darker, the mounting pressure forces a devastating decision.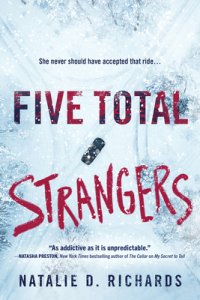 Five Total Strangers by Natalie D. Richards                                                     
From GoodReads: When Mira flies home to spend Christmas with her mother in Pittsburgh, a record-breaking blizzard results in a cancelled layover. Desperate to get to her grief-ridden mother in the wake of a family death, Mira hitches a ride with a group of friendly college kids who were on her initial flight. As the drive progresses and weather conditions become more treacherous, Mira realizes that the four other passengers she's stuck in the car with don't actually know one another. Soon, they're not just dealing with heavy snowfall and ice-slick roads, but the fact that somebody will stop at nothing to ensure their trip ends in a deadly disaster.
Adults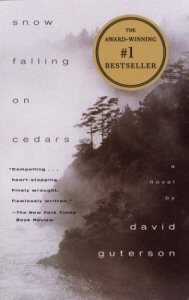 Snow Falling on Cedars by David Guterson 
From GoodReads: Gripping, tragic, and densely atmospheric—a masterpiece of suspense San Piedro Island, north of Puget Sound, is a place so isolated that no one who lives there can afford to make enemies. But in 1954 a local fisherman is found suspiciously drowned, and a Japanese American named Kabuo Miyamoto is charged with his murder. In the course of the ensuing trial, it becomes clear that what is at stake is more than a man's guilt. For on San Pedro, memories of a charmed love affair between a white boy and the Japanese girl who grew up to become Kabuo's wife; memories of land desired, paid for, and lost. Above all, San Piedro is haunted by the memory of what happened to its Japanese residents during World War II, when an entire community was sent into exile while its neighbors watched.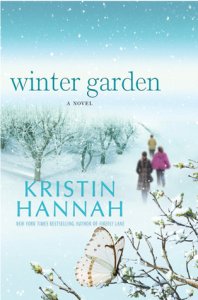 The Winter Garden by Kristin Hannah                                                       
From GoodReads: Meredith and Nina Whitson are as different as sisters can be. One stayed at home to raise her children and manage the family apple orchard; the other followed a dream and traveled the world to become a famous photojournalist. But when their beloved father falls ill, Meredith and Nina find themselves together again, standing alongside their cold, disapproving mother, Anya, who even now, offers no comfort to her daughters. As children, the only connection between them was the Russian fairy tale Anya sometimes told the girls at night. On his deathbed, their father extracts a promise from the women in his life: the fairy tale will be told one last time—and all the way to the end. Thus begins an unexpected journey into the truth of Anya's life in war-torn Leningrad, more than five decades ago. Alternating between the past and present, Meredith and Nina will finally hear the singular, harrowing story of their mother's life, and what they learn is a secret so terrible and terrifying that it will shake the very foundation of their family and change who they believe they are.