Upon entering the classroom, Stephanie's kindergarten students always look forward to a sweetly written message. That message reminds them that they possess an enormous amount of potential to shine and be themselves throughout the day. She possesses that too. Stephanie goes forward with her students. She is a source of light and encouragement to all her students. This year, Stephanie became one of the newest kindergarten teachers at
AF Bushwick Elementary
. She has always been inclined to help younger children. And the birth of her first child further signaled a profession dedicated to supporting students who have a passion for learning. While pursuing her master's degree in 2021, Stephanie received an offer by Achievement First to enroll in the
Teacher-in-Residence (TIR) program
. The initiative granted her professional development support. Stephanie shadowed tenured school leaders and received daily coaching sessions to perfect her practice. In just six months, she received a full-time teaching position and welcomed a class of bright young minds.
Despite the challenges of virtual learning (and teaching), Stephanie focused on the opportunities.
She prioritized making her Kindergarten students feel safe, trusting, and excited to be in a new environment. With Stephanie's guidance, her students quickly adapted to 'what a typical school day looks like.' "It was mind-blowing," Stephanie says. "Even though they are four or five-year-old children, they were able to learn to lean on themselves and get things done." Stephanie says she and her colleagues had to go forward together with their students. Like many students adjusting back to in-person learning, teachers both new and old also faced challenges. "It didn't matter if you had eight years in, five years in, or if it was your first year," says Stephanie. "We had to reinvent the wheel." So how did she adjust to in-person instruction? Stephanie incorporated a 10-minute-long morning social session. During these times, she encourages students to build interpersonal skills, share fun facts about themselves, and most importantly, learn from each other. As a result, these sessions created a sense of classroom community. Students felt included. Simultaneously, students also built important skills such as tying their own shoes and picking up after themselves.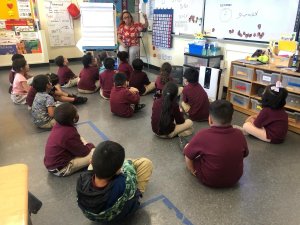 Partnering with her team helped Stephanie feel she had value in what to offer.
And all the hard work, adjusting, reinvention, and going forward together worked. No matter the circumstance, her team rose above the challenges to ensure every child had equal opportunities in their respective classrooms. As the school year concludes, Stephanie cannot help but reflect and show gratitude toward her fellow teachers. She also wants to help fellow educators who are dealing with the same circumstances. "My advice to any new teacher would be, embrace positive constructive criticism," says Stephanie. "Come in with an open mindset and be flexible to change."