Jennifer and some of her scholars dressed for their Hispanic Heritage Month celebration.
Jennifer Efflandt is a founding teacher at Achievement First Providence Mayoral Academy Elementary and English Language Learner (ELL) Coordinator for AF's Rhode Island schools.
Why is Hispanic Heritage Month meaningful to you?
Throughout the year, and particularly in this month, I think it's really important for our scholars to not lose who they are and to honor their identities—it is my biggest push. At AF Rhode Island, our population is heavily Hispanic and about 25 percent of our scholars are English Language Learners. I know what that's like. Growing up, I was an English Language Learner myself.
I didn't learn to speak English until I went to school. Despite being in a bilingual program, I found that as a college student, my Spanish wasn't at the same level as my English and that I still had much to learn about my Guatemalan heritage. I had to be intentional by taking college/graduate-level courses to increase my Spanish language skills and learn more about Guatemalan history. If I hadn't done that, I wouldn't be the bicultural and bi-literate adult I am today. It's important to me that scholars understand that you don't have to choose between identifying as only "American" or only "Guatemalan." You can actually be both!
We try to reinforce this at AF Rhode Island. Every day this month, teachers have shared a PowerPoint with a specific Latin American person throughout history, allowing scholars to learn more about who they are and where they came from. We've also celebrated Hispanic cultures by having scholars bring in cultural artifacts to school, come to school in a culturally-representative dress, and by hosting an end of month celebration dance for families.
How else do you make sure our school honors students' cultures?
We have such a diverse population here—I can tell you off the top of my head I have a lot of students who are Dominican, Puerto Rican, Guatemalan, and El Salvadoran—and I want to make sure that's acknowledged throughout the year. As the ELL coordinator, I always want people to keep in mind native Spanish speakers. I'm also a teacher, and I feel it's important for teachers to constantly ask themselves, "What else can I be doing in the classroom to view my non-native English speakers as assets?" It's more than just ensuring that translation or resources are accessible. It's a whole mindset.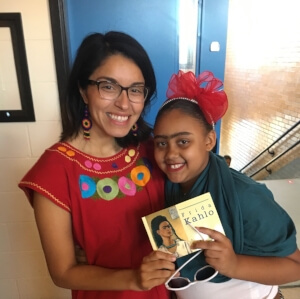 What are the biggest assets of having English Language Learners and students from Spanish-speaking homes in our school?
I have worked as an ELL teacher for over a decade. Learning a new language and meeting lofty end of year goals is never an easy feat for ELL students, but they are certainly capable and can add so much to a classroom! Several of our ELLs are actually newcomers who just recently arrived from other countries. Tapping into their world view is so rewarding for all of the students and staff, because they bring rich experiences that we may not be able to identify with. They can teach us firsthand about the world.
How do you think your heritage and your experience informs your work and the way you see the world?
When I was young, I lived in Guatemala. I moved to Providence when I was 5 and actually lived in the neighborhood AF serves here. I grew up knowing many selfless, hardworking immigrants. Seeing them make sacrifices every day to ensure their children would have a better future fueled my work ethic and desire to also give of myself unto others. My experiences have also made clear to me that by valuing our scholars' identities and native languages, we can help them become highly educated change agents in multilingual communities and areas of the world.
I also know that fostering native languages and cultural identities also helps parents stay engaged in their child's lives and learning. Growing up with a family who couldn't communicate with my teachers, my parents were still really empowering to me because we maintained a common language and heritage at home. Despite not being able to help me directly with my English language, they pushed me to be my best self, and challenged my thinking in Spanish. I think about that when I work with our parents and try to empower families so they also feel that they can be partners in their child's education, regardless of language barriers. Everything I do in my work with non-native English speakers, I do based on my own experience as an ELL.