Maura Donahue is the Dean of Students and School Culture at the AF Bushwick Empower Program, Achievement First's intensive program serving students with disabilities. The specialized program is transitional in nature, with the ultimate goal for many students to have a thoughtfully planned and supported transition back to co-taught and general education classrooms at their original Achievement First school. Here, she shares what it means to her to teach and lead at Empower.
When I started working as a pre-K teacher, I had one student who stood out. He wasn't able to verbally communicate his wants and needs. He showed challenging behaviors throughout the day, including screaming and hitting. I knew I had to give him extra care and individual attention. I taught him for two years before he moved to Senegal. Years later, when he came back to the community center where I'd taught him, he had lost most of his English. The word he remembered was my name. I knew that was because I had worked with him 1:1, even when it was hard. I had believed in him. When I think about why I do this work, it all comes back to him. I came to Achievement First because I wanted to work in a place where everyone has a deep belief in all students. Where it's not just about the teacher, it's about creating a classroom and setting a culture where every student gets what they need. I first found that at AF Bushwick Elementary as a K-4 interventionist. When my dean (now principal) told me we were launching the AF Bushwick Empower program—a 12:1:1 setting that builds on the three pillars of our special services program: meaningful inclusion, intervention, and specialized instruction to access grade-level curriculum—and that she wanted me to pilot our first class, I knew I had to be a part of that work. [caption id="attachment_10897" align="alignleft" width="300"]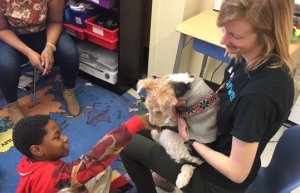 Maura and a scholar visit with Brightly, a certified comfort dog.[/caption] Today I'm the dean of school culture and students in the AF Bushwick Empower Program, where we serve over 30 students who have a range of needs. All of our lessons are purposefully differentiated—we have one scholar who uses an iPad to communicate, and another who's just become a proficient reader. Every day, we seek to make school a place where kids feel, "My teachers believe in me. This is a place where I have a voice." Many of our students come to us disliking school because they haven't always felt successful at it. Here, we want them to think, "I can be successful because I get what I need. I'm learning how my brain operates so that I can advocate for myself." What does it mean to be that kind of program? It means extensive child-focused collaboration. I recently worked with the superintendent, paraprofessional, and teacher on a name intervention for a student to learn to write their own name—the highly involved process included each educator contributing to conceiving markers for excellence, analyzing data, and creating a strategy for success. And our students are growing. I am watching some of my students that I taught in 2nd grade as part of the pilot, now in 4th grade reading on grade level and returning to less-restrictive settings in AF classrooms. A student who used to cry and run out of the classroom is leading his class in the Empower chant every day. When you're successful in school, that can transform your behavior because behavior is communication. Our kids are feeling more successful with their academics, and they're feeling more successful with their peer group. And their challenges? I think the biggest one is this: The world is guilty is of underestimating them. The world is guilty of making a lot of assumptions about them and what they can do. What I want, what all of us at Empower want, is for our students to find something that they're really passionate about and to be able to have the skills to pursue it and be successful. And I am proud to be part of a community of educators where everyone holds these same beliefs.
Do you want to join Maura at the AF Empower program? Check out our job openings on our careers page.