What's the perfect way to celebrate and learn during Women's History Month? Read! This month is a time to take inspiration from the stories and journeys of all women who have fought tirelessly for a better life for all. Now it's time for the fun part: Let's hop into our Women's History Month book list!
Do you have a tale for storytime or more Women's History Month book list recommendations? Send them to moments@achievementfirst.org and we'll add them to a future list!
Elementary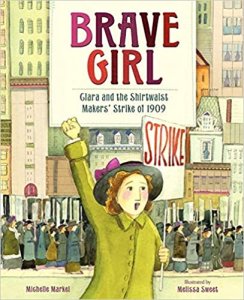 Brave Girl: Clara and the Shirtwaist Makers' Strike of 1909 by Michelle Markel
From ADL.org: Clara Lemlich was a young Ukrainian immigrant who led the largest strike of women workers in U.S. history. When she arrived in the U.S., she didn't know that young women had to go to work. And that they traded an education for long hours of labor. Fed up with the mistreatment of her fellow laborers, Clara led the largest walkout of women workers the country had seen. She felt strongly that everyone deserved a fair chance and that you had to stand together and fight for what you wanted.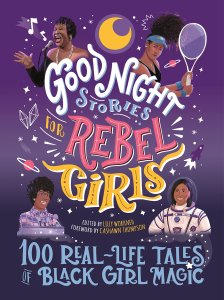 Good Night Stories for Rebel Girls: 100 Real-Life Tales of Black Girl Magic by Lilly Workneh
From RebelGirls.com: Good Night Stories for Rebel Girls: 100 Real-Life Tales of Black Girl Magic acknowledges, applauds, and amplifies the incredible stories of 100 inspiring Black women and girls from the past and present and around the world.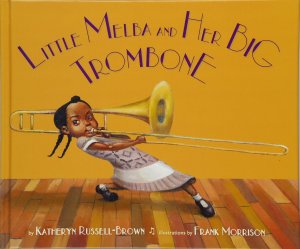 Little Melba and Her Big Trombone by Katheryn Russell-Brown
From GoodReads: Melba Doretta Liston loved the sounds of music from as far back as she could remember. As a child, she daydreamed about beats and lyrics and hummed along with the music from her family's Majestic radio. At age seven, Melba fell in love with a big, shiny trombone, and soon taught herself to play the instrument. By the time she was a teenager, Melba's extraordinary gift for music led her to the world of jazz.
Middle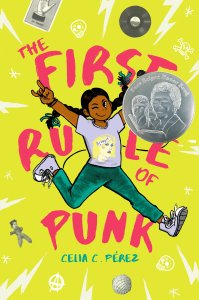 The First Rule of Punk by Celia C. Pérez
From Penguin Random House: There are no shortcuts to surviving your first day at a new school—you can't fix it with duct tape. On Day One, twelve-year-old Malú inadvertently upsets Posada Middle School's queen bee, violates the school's dress code, and disappoints her college-professor mom in the process. Her dad, who now lives a thousand miles away, says things she needs to remember the first rule of punk: be yourself. The real Malú loves rock music, skateboarding, zines, and Soyrizo. And when she assembles a group of like-minded misfits at school and starts a band, Malú finally begins to feel at home.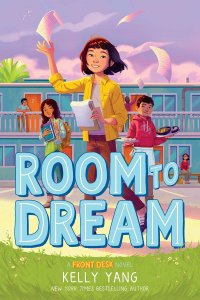 Room to Dream by Kelly Yang
From Scholastic: After years of hard work, Mia Tang finally gets to go on vacation with her family — to China! A total dream come true! Mia can't wait to see all her cousins and grandparents again, especially her cousin Shen. As she roams around Beijing and witnesses some of the big changes, Mia thinks about the changes in her own life.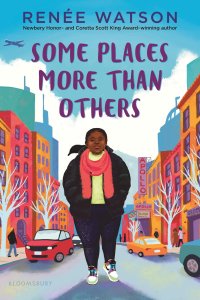 Some Places More Than Others by Renée Watson
From GoodReads: All Amara wants is to visit her father's family in Harlem. Her wish comes true when her dad decides to bring her along on a business trip. She can't wait to finally meet her extended family and stay in the brownstone where her dad grew up. Plus, she wants to visit every landmark from the Apollo to Langston Hughes's home. But her family, and even the city, is not quite what Amara thought. Her dad doesn't speak to her grandpa, and the crowded streets can be suffocating as well as inspiring. But as she learns more and more, Amara realizes how, in some ways more than others, she can connect with this other home and family.
High-school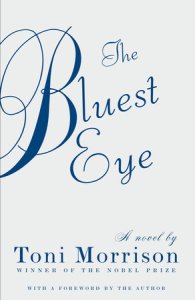 The Bluest Eye by Toni Morrison
From Penguin Random House: In Morrison's acclaimed first novel, Pecola Breedlove—an 11-year-old Black girl in an America whose love for its blond, blue-eyed children can devastate all others—prays for her eyes to turn blue: so that she will be beautiful so that people will look at her so that her world will be different. This is the story of the nightmare at the heart of her yearning and the tragedy of its fulfillment.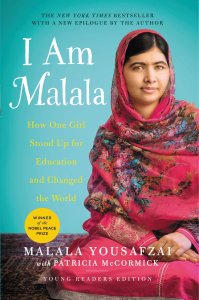 How One Girl Stood Up for Education and Changed the World (Young Readers Edition) by By Patricia McCormick and Malala Yousafzai
From Barnes and Noble: Raised in a once-peaceful area of Pakistan transformed by terrorism, Malala Yousafzai was taught to stand up for what she believes. Malala was only ten years old when the Taliban took control of her region. They said music was a crime. Women weren't allowed to go to the market. Girls couldn't go to school. In this Young Readers Edition of her bestselling memoir, we hear firsthand the remarkable story of a girl who knew from a young age that she wanted to change the world — and did.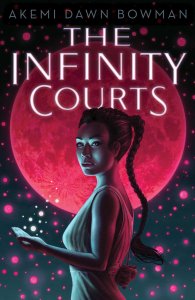 The Infinity Courts by Akemi Dawn Bowman
From GoodReads: Eighteen-year-old Nami Miyamoto is certain her life is just beginning. She has a great family, just graduated, and is on her way to a party where her entire class is waiting for her. This dizzyingly smart sci-fi is about a teen navigating an afterlife where AI entities are intent on destroying humanity.
Adult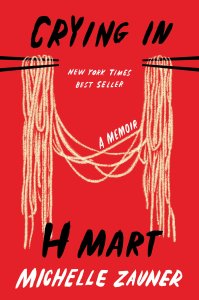 Crying in H Mart by Michelle Zaunder
From Barnes and Noble: If you're not familiar with the name Michelle Zauner, you may recognize her band, Japanese Breakfast. With humor and heart, she tells of growing up as one of the few Asian American kids at her school in Eugene, Oregon, and struggling with her mother's particular, high expectations of her. She also tells of painful adolescence and the treasured months spent in her grandmother's tiny apartment in Seoul.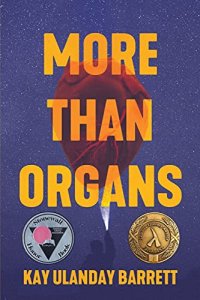 More Than Organs by Kay Ulanday Barrett
From Bookshop.org: A love letter to Brown, Queer, and Trans futures, Kay Ulanday Barrett's More Than Organs questions "whatever wholeness means" for bodies always in transit. More Than Organs tattoos grief across the knuckles of its left hand and love across the knuckles of its right. It leaves the reader physically changed by the intensity of experience, longing, strength, desire, and the need to survive.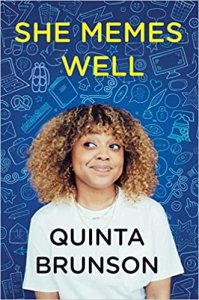 She Memes Well by Quinta Brunson
From HMH Books: From comedian Quinta Brunson comes a funny collection of essays about trying to make it and the importance of staying true to your roots. Quinta applies her trademark humor and heart to discuss what it was like to go from a girl who loved the World Wide Web to a girl whose face launched a thousand memes.
For more Women's History Month book list recommendations and inspiring moments, follow our social media this month!