Ever since their wildly popular debut at last year's TFA Summit, our signature Achievement First fanny packs have been all the rage in classrooms from Brooklyn to Bridgeport. So what's in these magical teacher bags? Inquiring minds would like to know, and Jenine Jeffreys is here to tell us!
Ms. Jeffreys has been a member of the Amistad Academy Middle team for three years. After serving as a Teacher-In-Residence, she now teaches 5th grade science. Ms. Jeffreys can't possibly leave home without her fanny pack because it contains the essentials she needs to get through the day.
So, Ms. Jeffreys, what's in your fanny pack? Drum roll, please…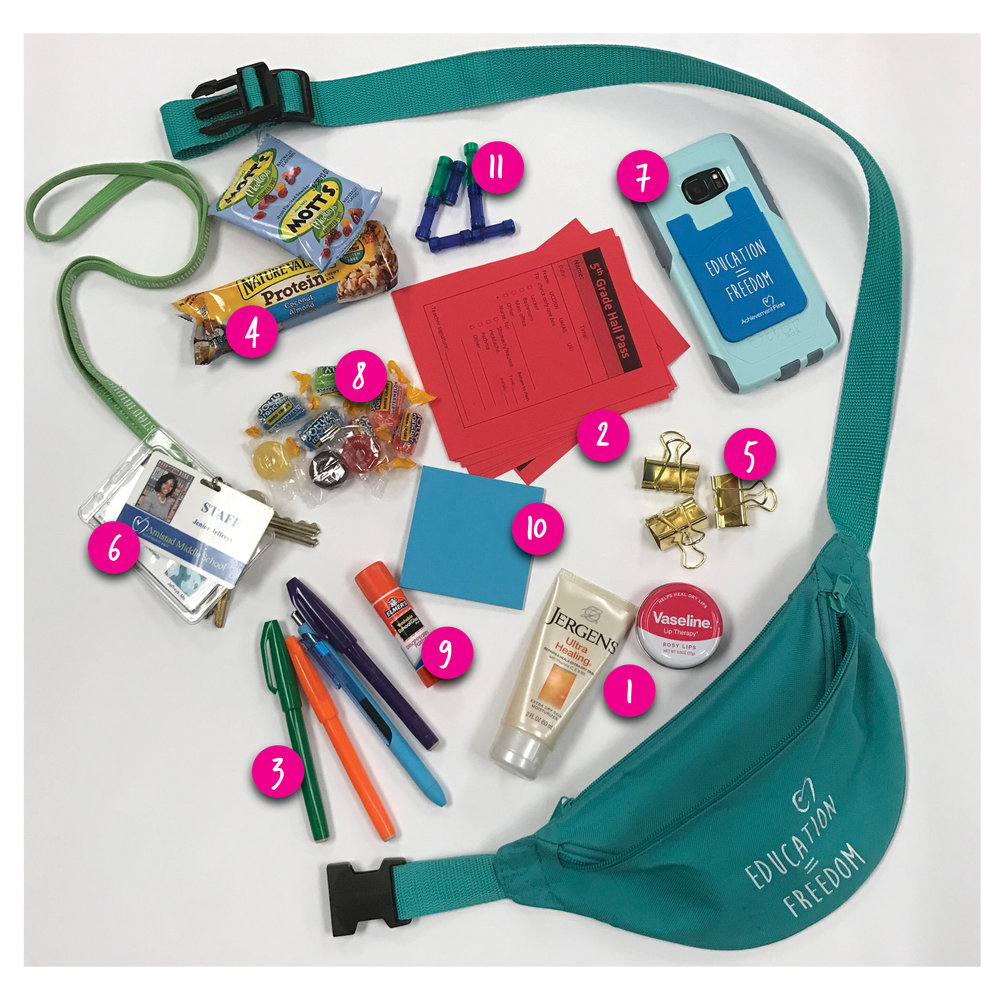 Chapstick/lotion- These are mainly to take care of myself during the day. Since we rotate classrooms, it's easier to keep them on me instead of stashed in my desk.
Hall passes- You never know if a kiddo will have to go to the nurse, which means I need these nearby at all times.
Assorted pens- Cute pens are a teacher's best friend!
Snacks on snacks on snacks- Believe me when I say, you do not want to see me hangry!
Binder clips- I receive hundreds of papers throughout the day. And if I'm not organized in the moment, then I never will be!
Keys- Gotta be ready for those quick bathroom runs.
Cellphone- This is here in case I need to reach a parent or make an urgent call.
Some pieces of candy- For bribery reasons 😉
Glue stick- Teaching science means science notebooks. And there is a daily science notebook mishap, so I'm always prepared with the means to fix it!
Post Its- I find it useful to write quick posi (positive) notes. It helps keep scholars focused, and I can easily shout out all of their hard work.
Confiscated toys- #fifthgradeproblems
Jenine, thank you for revealing your tools of the trade!
Teachers, what do you need to get through your day? Let us know at moments@achievementfirst.org, and you could be the our next feature!
Do you want in on this fanny pack action? Join us!