If Ajay had to pick his favorite moment from Achievement First (AF) Camp, it would be overhearing one of his former students describe him as "a really nice guy, but a total dork." This is precisely what Ajay set out to do during his time as the Arts Programming Director at AF Camp. He wanted to create a space where campers embrace their silliness and choose joy.
AF Camp wrapped up its second year this past July. The immersive summer camp experience offers elementary and middle-school-aged Achievement First students a multitude of opportunities to have fun, be joyful, and build a tight-knit community. During the two separate two-week-long sessions, campers play sports, explore the outdoors, show off their stardom in talent shows and TikTok dance battles, attend arts and baking classes, and much more.
In addition to all the fun, counselors use moments during camp to teach campers about Achievement First's core values. For campers, AF Camp feels like a 'home away from home.' Or rather, AF Camp feels like Achievement First away from Achievement First. And that is because alumni and teachers, like Ajay, a sixth-grade history teacher at AF Voyager Middle volunteer at AF Camp.
During these past few years and throughout the pandemic, teacher-student socialization was challenging for Ajay. Ajay felt his role as a teacher could benefit by being in a space that did not concentrate on meeting an academic goal and instead prioritized inhabiting and choosing joy.
Ajay chooses to implement joy in everything he does.
And that is because he believes it is vital social and emotional education for kids' development. Though it was Ajay's first year volunteering at AF Camp, Ajay adopted multiple roles during both sessions. He managed the Activities Team, routinely coached counselors, enhanced child development strategies by 'sprinkling' new vocabulary words throughout camp, and even covered one of his favorite Foo Fighters songs at the counselor talent show.
In his pursuit of silliness, Ajay was able to observe campers in a new light. He saw his campers grow, develop confidence, and care for each other. For the upcoming school year, Ajay says he already has ways he will "choose joy" in the classroom. Ajay hopes his colleagues do the same. "[When kids hands-on do something] They are figuring themselves out. [Creating a space for them to have that] Even if it's just for two weeks, is important for their development," says Ajay.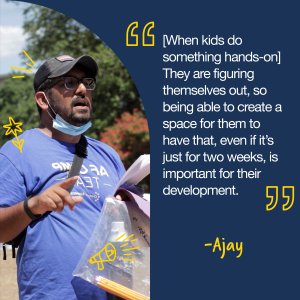 Ajay appreciates all the AF Camp memories. From the times he would spark curiosity in baking class to participating in the latest viral dance trend – he too saw a new side of himself. Ajay grew alongside his campers and outside the classroom.
As his campers return to school from AF Camp, Ajay hopes they, like him, learn something new and enjoy everything they do.
"There are things I [did at AF Camp] that I [will] bring back to my school to make it an even better learning environment," says Ajay. "If you choose to make camp a fun experience, it helps you out a lot: when you are back at school, with friends, [and when you are] building long-lasting friendships."