"This has been a life-changing experience as an educator. We are able to give our students higher quality teaching because of the support we have received from Navigator." – Navigator Partner
For more information on the Navigator Program and application, please visit here.
Why Navigator?
The Navigator Program provides deep implementation support for schools using AF's Common Core-aligned, proven curriculum. You will receive one-on-one coaching on a weekly basis to guide you in your journey to drive student achievement at your school(s). We set a high bar for rigor and engagement. We give students rigorous grade-level curriculum, and we give teachers and leaders the skills and tools they need to implement the curriculum.
This is the best professional development I've ever received. The clarity and support has been unreal." — Navigator Partner
The Experience
You will be matched with a skilled coach. S/he will work with you weekly for the entire school year, guiding the implementation at your school(s). Coaches observe your teachers with you, provide feedback to you and to them to support implementation, build customized skills aligned to your goals and adapt the program to your school needs. Regardless of your starting point, from a new leader to a veteran coach, you will grow in your practice as you receive deep support from our team and you will see your teachers and students building skills. In addition to your coach, you will have a detailed roadmap to guide implementation, a foundational summer training, hundreds of aligned resources, and a community at your fingertips.
"The coaches are awesome; the support is deep and rigorous, and equity for kids is front and center." – Navigator Partner

"I love that I get the chance to be rigorously coached as a first year school leader and I also have a network of other school leaders across the nation." – Navigator Partner

"I love the focus on student success and equity. The rubrics for observation, video exemplars, lesson plan resources and coaching all work together to execute instruction." – Navigator Partner
We offer several options for participation:
Elementary School Math Stories

Math stories are rigorous 20 minute daily conceptual math problems. Math stories can be adopted alongside your current math curriculum or as the first step to adopting the full AF math program, with math lessons added in year two or three. See this video for a sample. We offer math stories for grades K-4.

Elementary School Math Lessons

Separate from math stories, math lessons are AF's full daily math block. You can implement these with or without math stories.

Middle School Math Lessons
Middle School ELA Lessons
Our goal is to partner with district and charter schools to adopt and adapt our curriculum and instructional practices to help you support your students to achieve breakthrough results. Navigator will work with participants over two to three years to implement the curriculum and build instructional capacity in schools.
Partnership with Navigator offers:
Access to AF's complete program, including all curricula, assessments, and related resources.
Deep instructional coaching and implementation support with a three-day summer kick-off training, turnkey materials for teacher training, weekly coaching calls, monthly in–person or virtual site visits from your coach, weekly video observation reviews, and support with IA data assessment.
Connections within a community of educators also implementing AF curriculum and instructional practices.
Our expert coaches work with you to develop transformational leader skills, practices, and mindsets in the following areas: 
Intellectual preparation protocols

Unit unpacking

Observation and feedback

Looking at student work

Leading change

Action planning based on data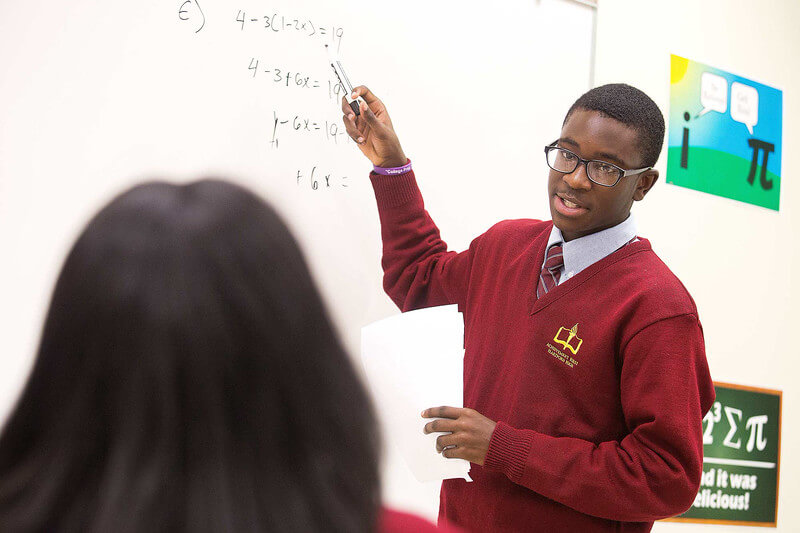 Explore the AF Navigator Program
Applications to participate in Navigator for the 2021-22 school year are closed. Please email Laina Vlasnik Yip at LainaVlasnikYip@achievementfirst.org if you are interested in applying.
Learn more by reading our AF Navigator FAQs.
Who is eligible to participate in Navigator?

District and charter schools around the country are eligible to apply for the program.

Our ideal candidates demonstrate:

excitement to take on this work. This includes the principal, the lead participant from the school (generally an instructional coach, dean or assistant principal), and teachers in participating grades.
growth mindset and hunger for feedback to improve skill and outcomes.
belief that all children can achieve at the highest levels.
a record of solid achievement.
a record of implementing new initiatives successfully.
a strong desire to dramatically increase student performance.
eagerness to move an inquiry-based approach and focus on students' conceptual understanding.
What will we receive as participants in the Navigator Program?

Daily Lesson Curriculum – extensive unit plans with accompanying daily lesson plans and all student-facing materials; this also includes daily lesson and cumulative review homework and weekly cumulative review for students
Weekly Quizzes – weekly assessments aligned to daily lessons and cumulative review materials to gauge progress toward mastery
Intervention support in using weekly quiz data to intervene and support students
Instructional skill building and support in the following areas:

Leader and teacher practices
Ongoing intellectual preparation of daily lessons
Regular observation and feedback of teaching
Weekly analysis of student data
Looking at student work protocols to plan for response to data
Is it possible to adopt some, but not all of the program components and still participate in the program?

We believe that a school needs to implement all of the elements outlined above in order to achieve transformative gains. However, we recognize that making this transition in one year may be too drastic of a change for most schools. We strongly encourage adopting all elements of the program and will give preference to schools that are looking to do so. We work with schools to determine the best pace for that adoption.
How will Navigator support my school in adopting the program?

Participants will receive intensive professional development in the summer to learn the core components of the program and will begin working 1:1 with a coach to plan for implementation. This includes support with the change management necessary for a smooth transition. Once the school year begins, your coach will be there to support you as you conduct observations together, troubleshoot and plan for ongoing implementation. You will continue developing core teacher and leader practices and mindsets.
What is the time commitment to participate in the program and for whom?

The principal and program liaison (instructional coach, assistant principal, or dean) must participate in a three-day intensive professional development session during the summer.

During the school year:

Principals must set a weekly meeting with the program liaison to support implementation.
Leaders must commit to weekly observation and coaching of teachers involved in the program (this will often be done in conjunction with your weekly meeting with your coach).
Leaders will be part of a national community of schools implementing AF's curriculum. They will meet virtually or in person monthly to share cohort data and problem solve.
What options are there for Navigator elementary school math?

There are multiple options. You can adopt only math stories (a) or math lessons. Alternatively, you can adopt both math stories and math lessons. Here are the requirements:
Math stories only (schools continue to use their existing math lesson curriculum paired with our 20 minute math stories program) OR

Math stories plus K-1 lessons (with option to add weekly quizzes)
Math stories plus 2-4 lessons (with option to add weekly quizzes)
Math stories plus K-4 lessons (with option to add weekly quizzes)

If you are applying to adopt math stories and math lessons, you should:

Plan to implement math lessons and math stories in at least K-1, 2-4, or 3-4

Meet the minimum scheduling requirements during your school day:

K-1: at least four 45 minute blocks per week (plus four 20 minute blocks per week for math stories);
2-4: at least four 55 minute blocks per week (plus four 20 minute blocks per week for math stories) available in the schedule
Do I need to change my math curriculum to be able to participate in Navigator?

If your school is planning to adopt only math stories in Year 1, you may continue to use your current math curriculum, provided it is not a program that is built around direct instruction (such as Saxon Math). If your school is planning to adopt our math lessons, these will become your daily curriculum.
Questions?
Get in touch with us at sharing@achievementfirst.org.