Yaneli is a proud parent and student service manager at Achievement First. Her children, Celene and Yanmark, attend AF Providence Elementary and Middle School. We sat down with Yaneli to learn more about her experience as a parent at AF.
Tell us about yourself and your family.
I'm originally from the Dominican Republic, and I was the first member of my family to graduate college in the United States. I have two children—one in seventh grade and one in second grade at the elementary school where I currently work. I'm a very happy and loving person, and I always let my heart and faith guide me.
What activities do you all like to do together?
I'm a busy mother! My oldest is on the swim team, and my daughter is on the dance team so every other weekend, I go to competitions. We also go to church on Sundays as a family.
That does sound busy, but also fun! How did you first hear about Achievement First?
I heard about AF through a friend, who was applying to another charter school in the area. She mentioned there was a new charter school coming into Providence—this was in 2013—so I applied, but I didn't have a lot of hope because there weren't many spots. I remember that day so clearly. I went to downtown Providence where they were accepting applications. I handed in an application for my son who was entering first grade, and they told me mine was officially the last application they were accepting. So I thought there's no way he's getting in. Then four months later, I found out my son was accepted!
Wow! That must've been so exciting! So why did you choose charter schools for your kids?
I've been a very involved parent. My son attended a traditional public school in kindergarten. I was volunteering every week and always in the school building, but no one knew my name or where my son's classroom was. I wanted something better for my son. Immigrating to the United States at age twelve, I didn't have the best opportunities. I was put into one of the worst public high schools because of where I lived, so I knew I wanted more for my kids and I wasn't willing to settle. I did my research, and I came across a lot of parents who had children in charter schools. I knew they were doing something different, and it was working. So when AF came into the community, I applied and got in—we were lucky.
How have you seen your kids grow?
I've seen tremendous growth. My son was in an ELL (English Language Learner) program and within six months, he tested out because of how fast he was learning English. My daughter is on the honor roll and the dance team. She doesn't stop. Even when things get hard—my kids don't give up. When I talk to them about college, they speak with so much confidence. I don't always consider myself confident, and I look at my kids and I see all the confidence in the world. They are so secure in their academic goals and everything AF has helped instill in them. That makes me really proud.
That's amazing to hear! What else are you proud of your kids for doing?
I'm so proud of much they love AF. I want my kids, especially my oldest, to come back to AF when he graduates college and give back. My kids never want to leave the building. They always say "my home away from home is AF." I'm so proud of how proud they are of being a part of the school. My kids will always remember their journey they had at AF because it's part of our family.
It sounds like you have all had a great experience at AF. Why would you recommend this school to other families?
I'm always advocating for our school! As a parent and someone who works at the school, I really believe there is something special at AF—we truly believe in building a family. We know every student, and we make an intentional choice to know their names, their interests, their family, and how we can support them. That means a lot to me as a parent. At the end of the day, I want teachers to know my kid. Every child is different, and they each have a story. I think AF does a really good job at getting to know those stories.
What advice do you have for other families looking for the right school for their child?
Something I learned on my journey is that you are your child's biggest voice, and sometimes we don't know that. We don't have to accept what we're told or settle on a school based on where we live. You should do your research and advocate for your kid.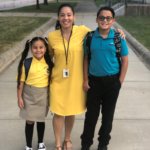 That's great advice, thank you, Yaneli. Our last question is for your daughter, Celene. We hear you're a superstar student at AF Providence Elementary. What do you love most about AF?
I like that when I'm in a new class my teachers ask what I did over the weekend. I like that they want to know me better.
Thank you both for sharing your story!