Karen Quintana and Claudio Cortina, Jr. are teachers at AF Bushwick Elementary.
One of my first memories of school was when I was in kindergarten. I had just emigrated from Mexico, where I was constantly surrounded by a loving family and familiar friends. When my mom and I moved to Arizona, it was just the two of us. I was adjusting to a major life change, beginning school, and learning to speak English.
It had to have been early October because I remember wearing a long sleeve Halloween themed Barney shirt and overalls. Kindergarteners were required to eat lunch in the classroom and so I was eating at my table and suddenly did not feel well. I raised my hand to get my teacher's attention and when she didn't see me, I got up and approached her desk. I tried, in my broken English, to tell her I was feeling sick. She was frustrated that I got out of my seat without permission, her eyebrows furrowed, and she said something, in her broken Spanish, about not understanding. I threw up all over myself.
That night, while I was in tears at our kitchen table, I told my mom I wanted to go back to nana and tata (my grandma and grandpa). She said that I needed to learn to speak English and this was for me and my future, and that in Mexico I would not have the opportunities I would have in the United States. She reminded me I needed to work hard and that I couldn't give up.
That's a lot of pressure to put on a five year old, but my mom always taught me the best lessons. I became a very studious kid and recognized early on that I needed to go to college. I began associating speaking Spanish with negativity so I stopped speaking it, which I know now that was not what my mom meant when she said I needed to work hard and learn English.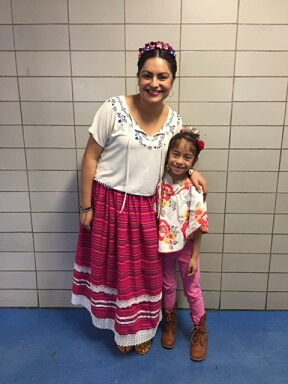 Karen and one of her students.
It wasn't until 2011 that I realized how impactful my own experience in the education system would be on my life. That was the year I began teaching kindergarten in Bushwick. A lot of my students were Latino with immigrant parents. As a first year teacher I was reflecting a lot that year on my instruction but also on my own role as a Latina educator. Up until this point, I only spoke Spanish at home, never in school or at work because that was just the way I thought it had to be. Now, I had to speak Spanish a lot more during report card and family nights and I started to realize how important my Spanish was for students, especially our students who only heard Spanish at home. When they would get tricked on a word they didn't know in English, when they wanted to express frustration, or when they wanted to tell a funny story they would use Spanish.
I teach kindergarten in the same community that I did in 2011, but now it is very different. I speak Spanish to students as much as possible: we sing songs in Spanish, we count in Spanish, and we discuss our Latino culture and how cool it is that we can come from different places and have a shared language.
I think back to my kindergarten experience and wonder what it would have been like if I had a teacher who not only looked like me, but a teacher who celebrated my culture, my language, and my family. I feel fortunate to work at a school that allows teachers to do that for children.  – Karen Quintana, AF Bushwick Elementary kindergarten teacher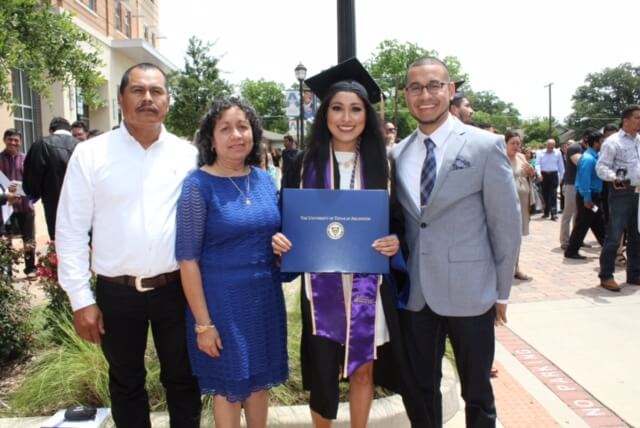 Claudio, right, with his family.
For me, Hispanic Heritage Month is a time to really think back about where we came from, where we are now, and where we want to go. Especially with immigration at the forefront of this election, it's a time for us to think about where we are and where want to be, not just from September 15 to October 15, but also for the other 11 months of the year.
There are many parts of my identity, and I'm still working on understanding them. I am a first-generation college graduate. My parents are immigrants. I speak Spanish. The flag in my classroom—the one they sometimes confuse with the Puerto Rican flag—is the flag for Texas where I was born after my parents came from Mexico.
In many ways, my experience in Texas was very different from that of the kids I teach in Bushwick. My whole life was in a small community – not like New York City, where you see all cultures and hear all languages. We lived in a Mexican neighborhood. We went to a Mexican grocery store. I was in English-only classes by third grade, and the use of Spanish was not seen as a positive.
By 3rd grade I had surpassed my parents' English speaking abilities and quickly became the translator of the family, and to some extent the leader of assimilation into American culture. But even as I child I could see the expression in others' faces when I translated, it wasn't positive. I was ashamed, resentful, and embarrassed to have to translate for my parents. Why did I have to bear this responsibility? This responsibility came at such a young age that I was unable to understand my parents' struggle, the necessity of the situation, and my selfishness.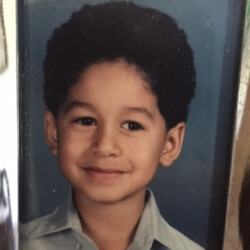 Claudio as a child.
It wasn't until years later that I actually realized what my parents were doing to ensure we were fed, clothed, and ready to learn. They were waking up at 4 a.m., working manual labor jobs in the blistering Texas heat, coming home covered in sawdust, and still cooked a home cooked meal and attempted to help us with homework. After this understanding translating was the least I could do. My parents may still mispronounce Wal-Mart or Facebook, but their sacrifices gave me my educational privilege. My education gave me the opportunity to stand in front of my students, and in both language say: Sí se puede/yes it is possible.
So now I can stand before them and say that language is a huge part of me, English and Spanish. My parents brought Spanish over and it's a part of who we are as a Mexican community. It's the "me" that my family knows me to be, the one who participates in the tradition, the food, the celebrations.
As I teacher, I know my Mexican heritage is who I am. Understanding who I am is what makes me better able to understand others. I am no longer ashamed, resentful, or embarrassed about my experiences growing up, instead I am proud and humbled by them and I think that is the best message I can give to my students.
– Claudio Cortina, Jr., AF Bushwick Elementary third-grade teacher