Nick Lebron is a community outreach associate at Achievement First. 
I am a Puerto Rican man from Hartford. My skin color, facial features and machismo make up the cover of my life book that the world sees. I am that, and I am more. My truth is not one single thing.
When I was young, I was cute and cuddly in everybody's eyes. When I started to grow and become a young man, I was no longer seen as cute, and I started to notice that certain types of people who wanted hugs before began to cross the street when they saw me. This perception that people had of me was not helped by the fact that I was enthralled with hip hop culture. I am in the first generation of my family to be born in the U.S. and unfortunately, my elders and other Puerto Rican traditionalists perceive hip-hop as black culture exclusively. But to be young and Puerto Rican in Hartford was to embrace hip hop. I don't know how to dance salsa. I speak Spanish, but I don't do it flawlessly. Those are reasons why, to some, I do not fit so neatly into the Puerto Rican demographic box I am supposed to check on surveys or the census. It's sometimes hard because I don't know others like me: Puerto Rican men from Hartford who are heavily influenced by hip hop and who are also professionals.
My heritage can leave me without a box to check in professional settings. I am not black. I'm not white. To some, I might not be "Puerto Rican enough."
I am proud of the barriers I've overcome, and I'm proud that I am opening doors for people who fit the same mold. I want to show young people who are like me that there's more out there than gang members and ex-cons. I can be your role model. I want people to see me in meetings and know they can see themselves in those meetings. If you look at statistics, Hispanic men have a low college graduation rate, but Puerto Ricans specifically have a graduation rate that is far lower. It is important for me to work in a professional setting where there aren't a lot of us. I feel like I'm setting a precedent for others coming up behind me.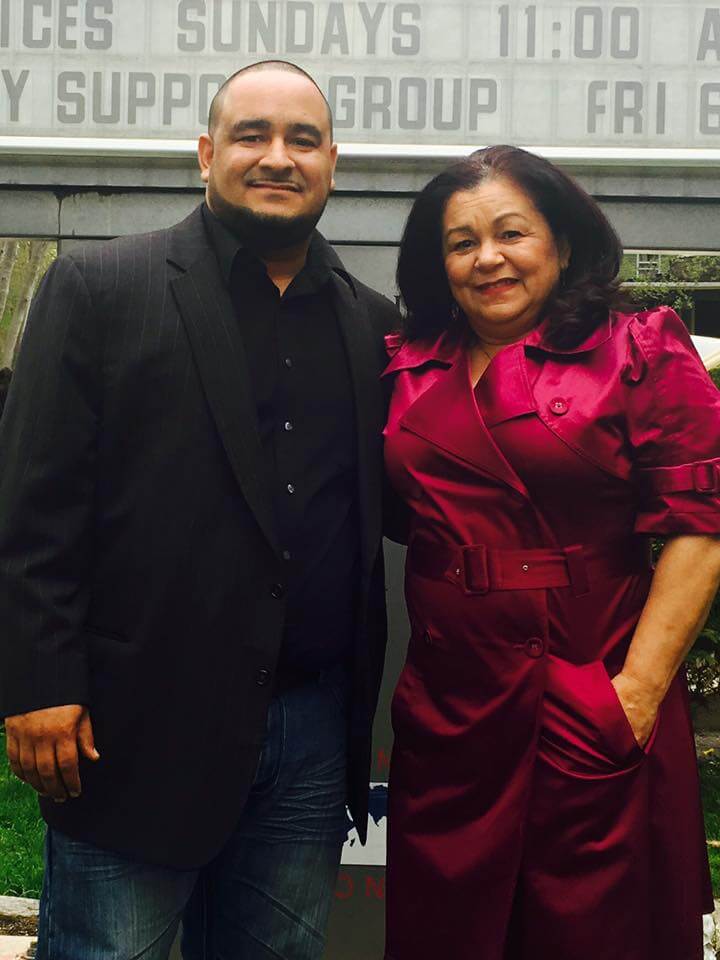 Nick and his mom.
I am Puerto Rican. My mom and pops told me so. I walk with my head high knowing this. I look at my kids, a generation further removed from Puerto Rico, and I see more assimilation. But I know we'll never be truly assimilated—I know the way the world sees us—and so I want us to hold on to the pride. I am so proud that my when my son runs Cross Country at his college, he wears sleeves bearing the Puerto Rican flag.
There are many truths to being Puerto Rican. I am no less Puerto Rican because I was born in Hartford – there are more Puerto Ricans in the United States than on the island. I am no less Puerto Rican because I choose hip hop over salsa. I want to see the Boricua nation overcome the divided mentality the dominant culture ingrained in us and become one whole nation. We also need to show that there are many paths possible for Puerto Rican young people – I want my journey to serve as one example. My parents told me the same thing I tell my kids: You are a true Puerto Rican!