Throughout Black History Month, we are celebrating important leaders in Black History and the scholars whose dreams they help make possible. Philip Emeagwali is a leader in the field of STEM.
The Unsung Hero Behind the Internet
It's hard to remember what life was like before the internet. Many people contributed to the advancement of the web, but there is one man TIME magazine called an "unsung hero behind the Internet." Philip Emeagwali is a computer scientist and civil engineer who designed the supercomputer. At the time, it was the world's fastest computer. He quickly gained recognition for his programming of a network of communication wires and computers that achieved record breaking speeds, completely changing the internet.
According to Encyclopedia.com, Emeagwali was born in Nigeria and like many children at the time, had to drop out of school because his family could no longer afford his education. However, that didn't stop him from pursuing his love for mathematics. He went on to obtain a bachelor's in mathematics, and three master's including one in environmental engineering, marine engineering and a third in applied mathematics.
In 1989, Emeagwali won the Gordon Bell Prize, which is considered the Nobel Prize of computing. Today, his computers are used to forecast the weather and predict the likelihood and effects of future global warming.
Black leaders are often underappreciated for their historic contributions to STEM. That's just one of the many reasons to celebrate Emeagwali's achievements. The unsung hero behind the internet has a name we all should know.
Julius, Fifth Grade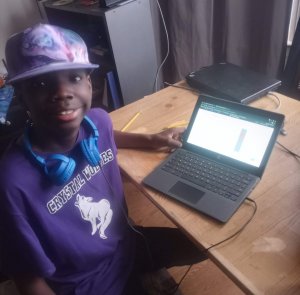 Emeagwali's passion for mathematics and computer science began at an early age. It was the same for Julius. Now a fifth-grader at Elm City College Prep Elementary, Julius was inspired to start coding after a third-grade website project.
He loved designing and wanted to know how things worked so he started teaching himself. Julius is gathering so much information from the internet Emeagwali helped create. He learned more about Javascript and enrolled in courses at Khan Academy. Now, he never wants to stop coding. Everyday after school, Julius spends a little bit of time programming a drawing board—creating tools to draw, color, and erase. It's a big project, but he knows he has to practice so that one day he can become the best coder in the world.
Julius is inspired by Black leaders in STEM who didn't give up on their dreams. He looks up to people like Emeagwali and he believes that "anybody can do anything, as long as you are determined to do it."
Philip Emeagwali's genius revolutionized technology. Someday, Julius's might too. We look forward to seeing all the breakthroughs Julius and his peers will make in the scientific community. And we want to help make sure their contributions don't go unsung.
For inspiring moments in Black History and American History, follow our Instagram and blog this month.