As we continue to reflect on the New York State Test results, we're seeing glowing highlights across our network. This week, we're shining the spotlight on just a few of these bright spots. First up? Our schools in Bushwick.
AF Bushwick Middle students surpass their host district peers by an average of 48 percentage points, and their state peers by 36 percentage points in ELA and Math.  Also, AF Bushwick Elementary students outperform the host district by 45 percentage points and the state by 27 percentage points.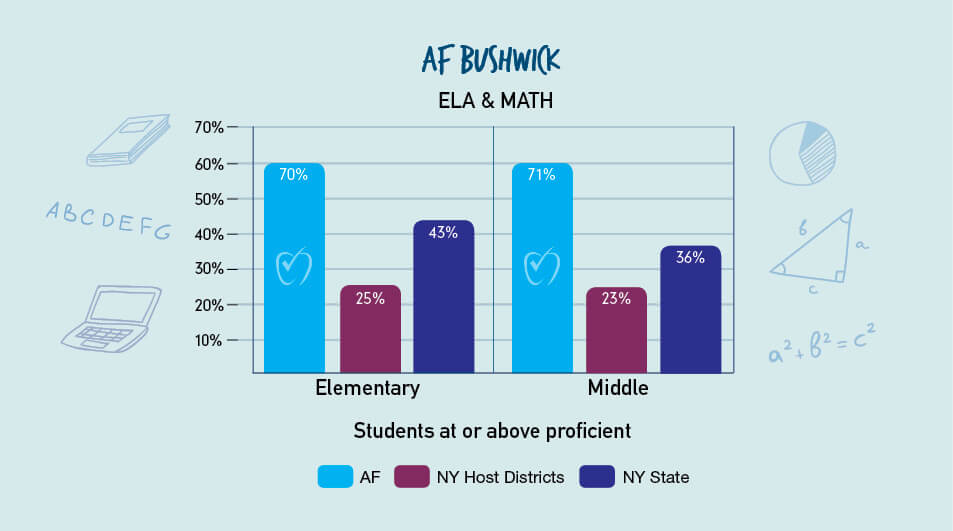 These figures tell an exciting story of progress and hard work, but there's more to it than just numbers. To bring you the stories of the teachers and students behind these results, we sat down with AF Bushwick Elementary's principal, Courtney Saretzky, and Riley Bauling, principal of AF Bushwick Middle.
Where were you when you learned about your New York State Test results? Who was the first person you called or texted?
Courtney: I was at AF Brooklyn High supporting new teacher training. I vividly remember what  Max Koltuv, our regional superintendent, said when he told me: "Have you seen your test scores? You need to open your email NOW! You have double-digit gains." He then dropped his jaw and used his hand to push it back up. I have to say, I wasn't shocked. I knew our scholars were capable of it, but I was so proud that the data was affirming and validating. Casey Hogan, our Humanities Academic Dean, was also at training, and I knew that she was a huge driver of our ELA results so I wanted her to know right away the incredible impact her leadership has had on our scholars. I also sent a text to my husband—he has always, always, always maintained that Bushwick's goals for our students were within reach, given our passion, high bar, and commitment.
Riley: I was at school with my leadership team.. I saw the email on my phone, and I remember thinking that I just couldn't read the numbers correctly on my screen. We knew it had been our best year yet, but going up 25 and 17 percentage points in ELA and math blew our previous results out of the water so it took several, "Is this really happening?" moments for us to finally start believing that it was real. The first people I told were Erin Howard, our humanities dean, and Bobby Bridges, our dean of students. These two people have helped build AF Bushwick Middle into what it is now, and their determination and commitment made those results possible.
The best moment, though, didn't come until I could compare our averages to Rye, NY (a nearby affluent district) middle schools across all grades in math and ELA. For the first time, we had not only closed the gap in ELA and math for eighth grade, a grade where the cumulative impact of our schools' is felt, we had obliterated it by 10 percentage points in ELA and 15 in math.
Can you share a story that speaks to the level of commitment a specific student had in preparing for the test?
Riley: The first kid whose scores I looked up was Anali's. She'd worked hard through her time with us, but she'd never gotten "proficient" on the test. Finally, as an eighth-grader, boom, there it was: 3 in ELA and 3 in math. I wish I could see the look on her face when she opens up her letter at home saying that she passed both subjects. Anali knows how hard this journey has been, and she finally has the results to show that with continued persistence, anything is possible. Her success this past year is a testament to what happens when a school team all aligns its efforts and becomes committed to doing whatever it takes to move mountains for kids. Anali's story reminds me why I love Bushwick so much: We truly believe that ALL kids in this country can and will be successful, and we are committed to proving that again this year.
Courtney: I immediately thought about Esther. Every day, she asked for extra work AND would ask to conference to go over any questions she missed. Esther was struggling in the beginning of the year with multiple choice questions; she would often pick the second-best answer. So she worked with her teacher on strategies to help her evaluate her answer, and soon she was leading the class in multiple-choice questions. Her commitment to understanding what she needed to improve to do her best was inspiring and contagious—many of her peers followed her example and asked for extra practice as well.
What about a teacher story?
Courtney: All the third and fourth-grade teachers showed such dedication throughout the year and especially during crescendo (our lead up to the test). One teacher, in particular, was working on giving feedback to scholars in a more urgent and purposeful way. This teacher worked daily to circulate to all scholars, pen in hand. He became stronger at giving targeted feedback in individual conferences and in doing whole-class data analysis. The amount of feedback he gave no doubt pushed his class toward greater mastery. We are also incredibly grateful for our K-2 teachers, who provided a strong academic foundation for our students.
Riley: The amount of sacrifice everyone on our team made to do what's best for kids was one of the most inspiring examples of teamwork I've ever seen at our school in my six years here. From running after-school groups every day, to teaching kids who needed the most support on the weekends, I woke up every morning from February to April grateful beyond belief that I worked at a school where teachers were willing to do whatever was in their power to deliver on our promise to families: that they were sending their kids to a school that would set them up to be excellent in high school, in college, and to go on and change the world.
If you were going to pick a song that symbolizes how you feel about your team, what would it be?
Riley: I can't think of just one!
Courtney: One is our hype up song "Betcha Can't Test Like Me" by Sade Johnson, our Dean of Students & School Culture. The other is "Ain't No Mountain High Enough" by Marvin Gaye. We often describe the path to college as a mountain. There are people who doubt our students' ability to achieve, but all 64 of AF Bushwick Elementary's staff members deeply believe that our scholars can and will excel. We want our students to be able to pursue their wildest dreams and a college degree is a part of that path. Our kids deserve a K-12 education that will prepare them to be successful, and for that to happen, we have to be top tier teachers, who believe in them, love them, and push them to be their absolute best.
Thanks for sharing your stories, Riley and Courtney! Check back throughout the week as we continue our profiles.