Diana Ballesteros is the student services manager at AF Bushwick Elementary.
My parents put down their roots in East New York in the late 80s. Although our streets weren't paved in gold and diamonds like they'd imagined, they had a vision for our lives.  They taught me early on that pursuing my education would be the key to our dreams. My education was something that we worked hard at every single day.
I never once thought about my "heritage" while I was growing up. Sure, we were proud Colombians. To this day, I wear amarillo, azul y rojo every chance I get. Every July 20, we'd gather with other Colombians in Flushing, Queens—me in my pollera colorada—and we'd lose ourselves in a sea of gold and in the sounds and seasonings of my parents' homeland…la tierra querida.
Although I was brimming with all of this Colombian pride, I didn't consider what it might mean to be a member of the larger Latinx community. I didn't even realize that I had a "Hispanic heritage" to claim. At school, the focus was U.S. history, and not a single page was dedicated to the Black and Brown experiences in the country. The kids I grew up with looked a lot like Achievement First scholars—minority students from hard working, low-income and immigrant families. Our identity was American, and for a long time, that meant suppressing anything that was outside of the norms of assimilation.
In fifth grade, I enrolled in a program that later placed me at an independent school in New York City. That summer, in preparation for my transition to the new school, we read Sandra Cisneros' The House on Mango Street.  I know how it sounds, but I can describe it no other way. This book changed my life.
This was the first time that I felt the void in my identity. I realized that I had never heard a voice like my own, had never seen myself reflected in any part of the education that I had received up until that point. As long as I could remember, Black and Brown experiences were never discussed, never considered, and often even erased. And as I read that collection of vignettes, I felt like Sandra had been following my family around all this time, and somehow she had captured our triumphs and tragedies.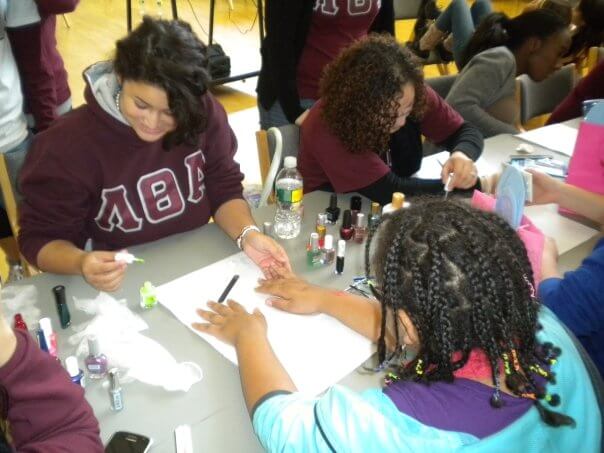 Diana volunteering with her sorority.
It wasn't until college that I pursued Latinx studies more thoughtfully; I devoured the narratives of authors like Jose Marti, Isabel Allende, Gabriel Garcia Marquez, Julia Alvarez, Jorge Franco Ramos, Sor Juana Ines de la Cruz…I could go on and on. I was thrilled to learn true American history—the history of both North and South America—to finally make the connections between policies and realities, to finally begin to understand my place in the world. And now, it brings me so much joy to share these years of learning with our scholars. Nothing is more satisfying than affirming their identities, than sharing a meal with our families and being able to say and know "We are here. We matter."