Throughout Black History Month, we are celebrating important leaders in Black History and the scholars whose dreams they help make possible. Garrett Morgan is a legendary engineer and inventor. And he made the world around him better.
Engineer Garrett Morgan
Every driver who navigates a busy intersection owes a debt to Garrett Morgan. Before Morgan patented the three-light traffic signal, there were only lights for "stop" and "go."
"In other words, Morgan invented the yellow light … General Electric took his patent and installed three-armed signals in cities across the country, which undoubtedly prevented millions of accidents," according to the Popular Mechanics piece, "The Untold Story of the Man Who Called Himself the Black Edison."
Morgan was a Black inventor, engineer and entrepreneur who endured discrimination and racism throughout his life and career. He did not receive the credit he was clearly due. And he never stopped making the world around him better.
The three-signal traffic light was not his first life-saving invention. In 1914, he patented a fire safety hood that allowed firefighters to breathe in smoke-filled rooms. As PBS explained in its "Who Made America?" profile of Morgan, "He sold the hoods to the U.S. Navy, and the Army used them in World War I  … Morgan's hood got great press in 1916, when he used it to save workers in a collapsed tunnel under Lake Erie. But Cleveland's newspapers and city officials wrote Morgan—who had ventured into the tunnel first—out of the story, lauding other men and ignoring Morgan's heroism. It would take years for the city to recognize his contributions. Morgan died in 1963, vindicated as a hero of the Lake Erie rescue and restored to his place in history."
He made revolutionary contributions to traffic safety, firefighting, and the military and that's not all.  As the Popular Mechanics story said, "He co-founded an African-American newspaper, took on a leadership role in the city's chapter of the NAACP, and ran for city council."
He had a lifelong commitment to making the world around him better.
Juelz, 7th Grade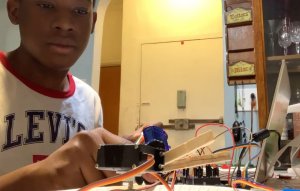 In his free time, you might find AF Voyager Middle student Juelz at the park running, skateboarding or playing basketball. Or you might find him building his own robotic arm.
Just as Garrett Morgan cultivated his passion for engineering, so does Juelz. As a younger child, he took apart old and broken electronics and put them back together. He taught himself to code after watching YouTube tutorials. And when his school held a winter talent presentation, Juelz knew he had to submit the robotic arm he created.
He took designs he saw and improved them. He explored, tested, and tried new things. It took a long time, but he kept going because he knew the arm would eventually work. And it did.
For Juelz, it's important to celebrate Black History Month because he needs to see other people who look like him and learn about their accomplishments. That definitely includes Garrett Morgan. Juelz wants to one day become a mechanical or electrical engineer. He wants to use his talents to develop a new type of solar-powered car and a water-powered car. Because Juelz, like Garrett Morgan, is as dedicated to engineering as he is to making the world around him better.
For inspiring moments in Black History and American History, follow our Instagram and blog this month.