At Achievement First, we know how important it is to support our teammates—both in and outside of work. Janae Marks from our Systems & Data team recently shared some exciting news—her debut book was just published! So we sat down with her to learn more about her middle grade novel, From the Desk of Zoe Washington.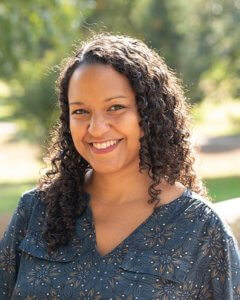 Janae! Your book earned multiple starred reviews and Amazon picked it as Best Book of the Month—it seems like you're off to a great start! Can you share more about your journey to publication?
Yes, thank you, it's very exciting! I've been writing for many years—Zoe was actually the fourth book I wrote, but it's the first one I've published. I got my MFA from The New School in 2010, so I wrote my first book during that program. This one, I started writing in 2016, after my daughter was born. I wrote it while balancing my job at AF, so I'd write early in the morning and at night. I finished in a few months and then spent a year revising. I submitted it for the Tassy Walden New Voices in Children's Literature Award (a Connecticut-based award), and I won the middle grade category! That award helped me catch the attention of agents while I was querying. There was some interest, and one agent asked me to revise and resubmit, which finally led to an offer. And then we ended up selling at auction for a two-book deal with HarperCollins. It took many years of trying and writing different things to get to that point!
But you made it! How did you motivate yourself to keep writing through all of that?
I have friends who are writers, and I worked in publishing, so I had an awareness that rejection is part of the process. It's an industry where you have to persevere and pick yourself back up. Of course it takes talent, but there's also a combination of luck, timing, and writing what the market wants. When you're trying to get published, so many factors are outside your control, so you have to keep writing until you find the right story and the right hook.
I guess it's stubbornness that keeps me going—I don't know where it comes from! You have to know that rejection is normal, and it sucks, but it's not about you. Also, it helped that in the last few years, the publishing industry has finally started paying more attention to the need for diversity and diverse books in children's lit.
Tell us a little bit about the book.
Twelve-year-old Zoe Washington is an aspiring baker, and her big dream is to get on the Food Network. One day, she gets an unexpected letter from her father (who's in prison), and decides to write back. They start to correspond, and it turns out he might be innocent, so Zoe sets out to find the truth.
The book has a mystery, and it explores social justice and the criminal justice system. And there's a lot of baking, which adds some lightness, and a friendship story. Kids can relate to different themes and parts of the story—there's something in the book for everyone.
We do love a good mystery! Where did you draw your inspiration for the book?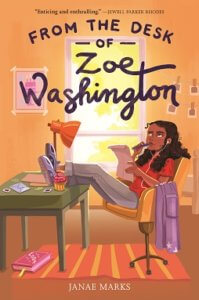 Partly from true crime podcasts, like Serial, that told the story of a crime and examined if the accused is actually guilty. I wanted to hook people to find out the mystery, but in a kid appropriate way. I also watched Ava DuVernay's "13th," which started me researching wrongful convictions and organizations like the Innocence Project that work to get them overturned.
One out of every 27 children will experience parental incarceration, but there are not a lot of books for this age group about kids with incarcerated parents. And not many books feature an African-American protagonist, so that's a gap for kids seeing themselves in fiction.
I also just really love baking competition shows like "The Great British Bake Off." I watched a show called "Kids Baking Championship"—the kids were so talented and adorable, so I decided to have Zoe try to get on a similar baking show.
And what about Zoe—does she have a baking specialty?
She makes a lot of things, but she does intern at her mom's friend's cupcake shop, so probably cupcakes.
Yum! How has AF supported you through this journey?
When I won the award a few years back, I told my manager and my team. That's the first time they all knew I was writing. They were excited and asked me to keep them posted. Once it sold, they were the ones who shared on Slack and during team meeting shoutouts. It was a no-brainer to invite them to the book release party in New York—they're always super supportive. One of AF's core values is to "Care for the Whole Person." We all care about AF and work hard in our jobs, but we have other things going on, too, and I've always felt very supported in my other endeavors. There are authors who don't feel comfortable sharing about their writing careers at work, and I'm glad that I've been able to do that.
You have another book coming out in 2021. What can you tell us?
I can't say much because it's still early, but basically, Book 2 is about another 12-year-old girl whose family circumstances change, and she finds her life uprooted. There's another mystery, similar issues of family and belonging, and a kid protagonist with a passion, though this time it's music, instead of baking. Anyone who likes Zoe will like this book, too.
We can't wait! Thanks for sharing, Janae.
Learn more about the book and grab your copy on Janae's website.