One of our favorite traditions is celebrating school leaders who have been with us for five, 10, and 15 years. These team members have grown with us, and we are better as a network because of them. We are so thankful for the contributions they have made to our schools and to Achievement First as a whole.
Please join us in congratulating the following dedicated, passionate leaders!
*These leaders are celebrating additional years of service, but this is our first opportunity to recognize them as School Leaders.
Five Years of Service
AJ Santos*, AF Hartford High
Alexa Crawford, AF Endeavor Middle
Alexandra Weiler*, AF North Brooklyn Prep Elementary
Alexandria Blackman, AF Endeavor Elementary
Andrea Summers, Regional Director of Operations
Ashley Baez, AF Linden Elementary
Brittany Clay, AF Brooklyn High
Brittany Michelle, AF Bushwick Middle
Brooke Williams, Amistad Academy Elementary
Carmen Naz, AF Iluminar Elementary
Charity Frempomaa*, AF Brooklyn High
Chloe Bergmark, AF Providence Elementary
Chris Edmonds, AF Apollo Middle
Christina Gellos, AF East New York Middle
Cristalba Alcide*, AF Bridgeport Academy Elementary
Cynthia Louis, AF Iluminar Elementary
D'Asia Adger*, AF Bushwick Elementary
Edijah Williams*, AF Bushwick Middle
Erica Gordon*, AF Crown Heights Elementary
Eugene Newsome, Amistad Academy Middle
Hannah Hopper*, Amistad Academy Middle
Jadine Joseph, AF Endeavor Middle
Jaimee Doucette, AF Brooklyn High
Jamie Gronningsater*, AF Hartford Academy Elementary
Jeanine Mason, AF Iluminar Elementary
Jennifer Andrade, AF Iluminar Elementary
Jo Dominique*, AF Hartford Summit Middle
Josh Pinto Taylor, AF Amistad HS
Kahleel Hamilton, AF Linden Elementary
Katherine Gallagher*, Amistad Academy Elementary
Kirsten Wunn, AF Apollo Middle
Kyra Weiss, AF Endeavor Elementary
Marie DiPinto, AF Hartford Summit Middle
Molly Breslin, AF Iluminar Middle
Mycah Hogan*, AF Providence Middle
Nana Effah, AF University Prep High
Nick Kaiser*, AF Brooklyn High
Nisha Acharya, AF Brownsville Middle
Pete Ostrower*, AF North Brooklyn Prep Middle
Raina Simmons*, Elm City College Prep Elementary
Rochelle Collins, AF Hartford Summit Middle
Rousseau Mieze*, AF Voyager Middle
Salvador Pellerano, AF Providence Middle
Samantha Jones*, AF Bushwick Middle
Samantha Lucky, AF Bridgeport Academy Elementary
Sam McGaffin, AF Aspire Elementary
Shana Richards*, AF Crown Heights Elementary
Shanice Adams, AF Bridgeport Academy Elementary
Shawna Melton, AF Iluminar Elementary
Shenaille Beckley, AF North Brooklyn Prep Elementary
Susie Kim, AF East New York Middle
Read on to see favorite memories and appreciation for our leaders who have reached the ten and fifteen years of service milestones.
Ten Years of Service
Jesse Balis-Harris, Regional Superintendent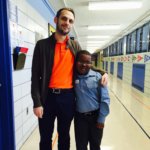 "My favorite memories are seeing some of my favorite people from my first-grade founding class at AF Apollo Elementary grow up into amazing students and almost grown ups at AF East Brooklyn High. I can't wait to see them graduate in a few years!
Allison Barkley, Academic Dean, Elm City College Prep Elementary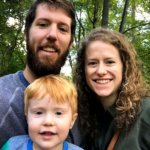 "My favorite memory is still in the making! My first group of third-graders at Elm City are now seniors at AF Amistad High, and I have heard from them and others about their exciting college admissions (including Stamford and Yale!). I can't wait for Senior Signing Day this year–there will probably be some ugly tears!"
Riley Bauling, Regional Superintendent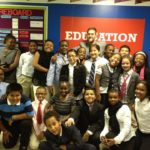 From Chi Tschang: "Riley is an insatiable learner with an unquenchable curiosity. He is relentless about getting better, both in his professional and personal spheres. His interactions fuel and improve those around him with generous doses of joy, and his dedication to kids is second to none. Thank you Riley for your ten years of service and for your immeasurable impact on children and adults."
Nicky Berman, Academic Dean, AF Bushwick Middle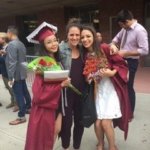 "A few memories: Late night lesson planning and getting kicked out of school by the custodians; when Friday nights hanging out with co-workers were life-saving; cheering as my first class of scholars held their t-shirts up at Senior Signing Day and one of my day-one colleagues leaning over to whisper to me, 'This is what it's all about.'"
Tiffany Blake, Dean of Motivation, AF Linden Middle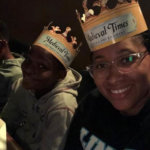 From Rochelle Murray: "What I admire most about Tiffany is her presence. It is unmistakably felt wherever she goes and her leadership continues to leave an impressionable mark on everyone that crosses her path. Tiff cares deeply about our kids and continues to love on them hard while holding them to the highest of expectations. The appreciation and gratitude for your service and the lives of so many that you have impacted these past ten years runs deep. Congratulations!"
Bobby Bridges, Principal, AF Bushwick Middle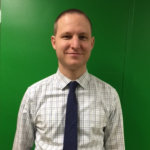 "My favorite memories have always been when I get to see our scholars grow up to high school age and beyond. I'm also proud of who they've become. From Signing Day speeches to one-off visits, to middle school events with older siblings cheering in the crowd, these events always give me valuable perspective on why our work matters so much."
Sueleidy Cruz*, Academic Dean, AF Hartford Academy Elementary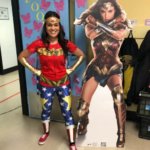 "I have many favorites memories but certainly my favorite ones are when I was teaching during our final push to hit our goals. It's a lot of fun and builds confidence for both teachers and students, especially at a time that can certainly be hard for everyone. Our kids are truly incredible heroes, and they inspired me to honor the incredible thinking and work our scholars put in day in and day out. Plus, who doesn't like to dress up like a superhero?"
Maren Handorf, Academic Dean, AF Crown Heights Elementary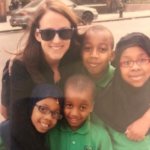 "Serving families with multiple scholars at our school and getting to know siblings and families over the past ten years has been rewarding, humbling, and also FUN. It's so important that there be continuity for families and scholars, and I look forward to the continued partnership on this journey together!"
Amelia Hanley, Vice President, Operations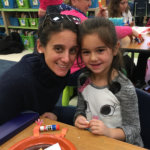 "A memory that sticks out is the day we opened the doors to AF Endeavor Elementary for the first time ever. I remember the feeling of anticipation and excitement that our founding team had and finally being able to greet scholars and families and welcome them to our new school. All of the work we'd put in over the summer to build our school had come to fruition, and the journey was just getting started. Our founding first-graders graduated eighth grade last spring, and I'm forever grateful to be a part of their journeys."
Elizabeth Harris, Academic Dean, AF Brooklyn High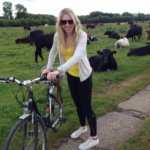 "My first three years teaching ninth grade composition at AF Brooklyn High were unforgettable. In 2010, we were trying new strategies, and I was the 'glue' across the humanities. I loved co-planning with history and lit teachers, participating in long, and collaborating with colleagues across schools. But the best part of that time was teaching and meeting with my advisory, who I stuck with for the next four years until they graduated in 2014."
Stephanie Keenoy, Regional Superintendent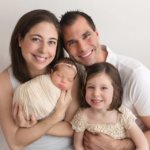 "One of my favorite AF moments was when we opened the doors at AF Endeavor Elementary on August 17, 2011. That day we greeted 90 beautiful, excited, and eager kindergartners into 510 Waverly for the first time. Every single founding staff member stood outside or in the hallways greeting every scholar as they walked down the hallway. I remember having goosebumps in that moment. As Gina Musumeci shared with me and I shared with my team, 'The path through college begins in the first seconds of kindergarten.'"
Tanya Kolb*, Academic Dean, AF Bushwick Elementary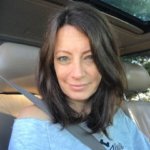 "My favorite memory at AF is more of a feeling, rather than a moment. Scholars that I taught in 2007 coming by to visit. Teaching siblings. Families coming to me when they need help or someone to advocate for their child. My first group of kindergartners getting ready to go off to college next year."
Cristina López del Castillo-De La Cruz, Dean of Student Culture, AF University Prep High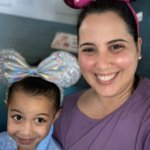 "There are a lot of favorite memories, but I think it has to be the year I had my daughter–she used to spend afternoons attached to me in a baby carrier while I worked with kids on AP Physics, and my advisory students worked on their homework. I was an academic dean, an AP Physics teacher, and prepping to take on a principal role, so there was a lot happening, but those are memories of joy and hard work."
Vanessa Massiah, AF Hartford High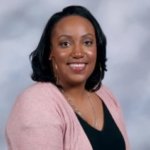 From Ben Cruse: "Vanessa is a rock. She walks through the hallways embodying the spirit of of our school. Vanessa breathes life into our school through the way she laughs and pushes students to be their best. She does the same thing with staff. Vanessa, you are so appreciated."
Justin McNamara, Academic Dean, AF Brooklyn High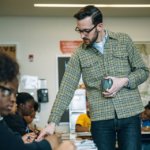 "This is a really hard question as there are so many great memories. I would have to say one of the best memories/realities is that my former students are now my colleagues or working at other AF schools in the network!"
Amy Norback, Academic Dean, Amistad Academy Elementary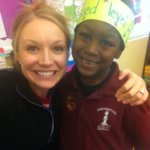 "The founding year at AF Bridgeport Academy Elementary, I was paired with another Amy and learned we shared an obsession with classroom decorating that resulted in making tea-stained treasure maps. I learned more in my first year of co-teaching kindergarten than I had in the previous three years of experience, and loved every minute with our beautiful 'K-Babies.'"
John Pettaway, Dean of Student Culture, AF Endeavor Middle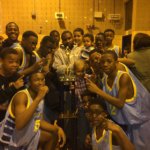 "My favorite memory was winning our first regional championship and celebrating with the entire school. I can remember seeing Mr. Melcher and Mr. Kaiser jumping up and down just as high as the kids and me getting super emotional in the moment!"
Courtney Saretzky, AF Bushwick Elementary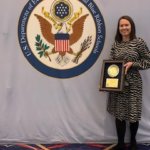 "Most recently, I was humbled and honored to represent Achievement First Bushwick at the National Blue Ribbon ceremony in Washington, DC. Joining this elite and esteemed group of schools affirmed the unlimited potential of our scholars and recognized the deep belief and dedication of our families and staff. Receiving the National Blue Ribbon was an enormous celebration of 10 years of really personal and important work."
Nilda Solomon, Dean of Student Culture, AF Bushwick Middle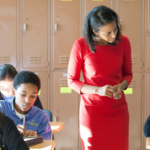 "AF Bushwick Middle is an extraordinary place because of the people. A kind, driven, and thoughtful team has made me not just a better educator, but also a better person."
Lucy Volkmar, Principal, AF East New York Elementary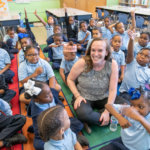 "I love being able to see my scholars grow across not only elementary school, but also into middle and high school and now college. Recently, I saw a former student who was barely verbal when I met him in first grade, and he ran into the hallway to greet me and said 'Ms. Volkmar! I haven't seen you in so long it's so great to see you!' It's been incredible to watch his progress and growth over the past 10 years."
Andrew Walker, Principal, AF Iluminar Middle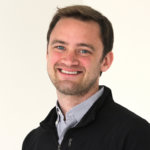 "Without hesitation, my favorite moment has been the first day AF Iluminar Middle opened its doors, and we welcomed our founding Phoenixes into their new school. The joy and energy of every scholar, family, and teammate was so powerful and the result of months of planning, partnership, and alignment."
Melissa Zurlinden, Director of School Operations, AF East New York Elementary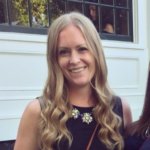 From Lucy Volkmar: "Melissa, AF is so lucky to have had your talents, passion, and wisdom for the past ten years. Our school is a BEAUTIFUL learning environment for our students because of your bar for excellence, your eye for details, and your love of aesthetics and décor. You always seem to know the answer to all of the questions. Even though other schools may have your role, no one else has 'a Melissa' because you are one of a kind!"
Fifteen Years of Service
Hilary Cymrot, Senior Director of Principal Preparation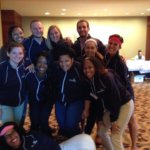 "My very first class of first graders will be graduating college in 2021, so I am eagerly awaiting those graduation invitations. In the meantime, Senior Signing Day and Graduation at AF University Prep are my favorite days of the year! There is nothing better than reconnecting with families I haven't seen in 5+ years or seeing my former little elementary schoolers walk across the stage proudly and confidently."
Thanks to all for sharing! We are so grateful to all our leaders for their commitment to our mission and scholars.