Throughout Black History Month, we are celebrating important leaders in Black History and the scholars whose dreams they help make possible. Dr. Shirley Ann Jackson is one of those leaders.
The Honorable Shirley Ann Jackson, Ph.D.
It is difficult enough to grow a love of science and math into a doctorate in physics from one of the top universities in the world.
But The Honorable Shirley Ann Jackson, Ph.D. was never afraid of doing what is difficult.
In 1973, she became the first Black woman to earn a Ph.D. from the Massachusetts Institute of Technology. Her ground-breaking journey toward a doctorate in theoretical physics is just one of the reasons TIME Magazine called her, "perhaps the ultimate role model for women in science."
Dr. Jackson went on to become the 18th president of Rensselaer Polytechnic Institute. When President Obama awarded her the National Medal of Science, our country's highest honor for scientific achievement, it was in recognition of her scientific work in "senior leadership positions in government, industry, and research, as well as academe," according to Rensselaer.
She held a vital governmental position—that of chairman of the U.S. Nuclear Regulatory Commission. As The New York Times noted, "She is both the first woman and the first African-American to serve as the chairman of the U.S. Nuclear Regulatory Commission, and now the first African-American woman to lead a national research university. She is also the first African-American woman elected to the National Academy of Engineering."
All of Dr. Jackson's brave and impressive firsts left a path for young people to follow. Young people like Janet.
Janet, Fourth Grade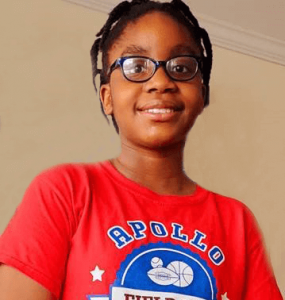 Dr. Jackson married her love of math and science with a strong sense of civic responsibility that led her to a senior role in government. At AF Apollo Elementary, teachers and leaders see those skills in fourth-grader Janet.
Janet has two favorite subjects. She loves math because of her affinity for numbers. Her other favorite subject is humanities, because she likes writing and reading about voting and Black rights. Janet is also the Student Council president. She took on this role in part because she wanted to help her school community – from kindergartners through fourth graders—adjust to the challenges of remote learning. Because Janet is not afraid of doing what's difficult, either.
Her advice to her fellow students is to work hard and never give up. Her favorite thing to do is to encourage others to do their best. As she looks toward a future when she plans to someday become a doctor, Janet says it's especially important to honor Black History and remember all the great Black leaders who helped advance Black Rights, and who make our country a better place.
Dr. Jackson is one of those people.  And Janet wants to be too.
For inspiring moments in Black History and American History, follow our Instagram this month.