At Achievement First, we believe that curricula should be designed with both the college-ready standards and the learning experience in mind. Our network team works closely with current teachers to produce top-quality curricular resources for all grades and subjects across our schools. We've developed the Curriculum Fellow program to encourage this collaboration. The program also provides a leadership opportunity for teachers who are experts in their content area and want to continue delivering excellent instruction to our scholars.
We sat down with Jordan Hardy and Colleen Young, two AF leaders who got their starts in the Curriculum Fellows Program, to learn more about the role the program played in their journeys as educators.
Thanks for connecting with us, Jordan. Can you tell us about yourself and how you got into education?
I'm a former Teach For America corps member. I'm originally from Ohio, but I always wanted to live in New York. This is my seventh year with Achievement First—I taught kindergarten and first grade, and then was a K-1 dean at AF Apollo Elementary. Next year, I will be the principal of AF Aspire Elementary.
Congratulations! That's exciting. What drew you to the Curriculum Fellows program?
Candidly, I really struggled my first year of teaching. I got stronger and took on more responsibility each year, starting with curriculum fellows. It was some of the best development I've ever gotten. To be a great teacher, you need to be able to plan lessons, and I got a lot of experience doing that, which really shaped how I approach teaching. You have to ask: What is the big idea I want my students to walk away with and how do I create questions to get them there?
It was also pivotal to me because it was one of the first times that I participated in great PD (professional development) led by a black woman.
How did Curriculum Fellows help prepare you to take on a leadership role?
I learned how to lead a network-wide PD, which I had never done before. I had to practice giving feedback and learn how to establish my presence. Being a curriculum fellow helped me feel confident leading adults, especially when I became a dean and had to give written and in the moment feedback on lesson plans. That was the outcome I was working toward in the program.
Is there a memory that sticks out to you from your time in the program?
I remember an experience where after a PD, a black teacher came up to me and said how powerful it was to see me leading the training. You don't typically see black voices in the curriculum space, so when I was leading PDs, it was important to me that other black teachers see me and think "I can do this, too."
Overall, I just value the work we did together. I'm still very close with the other former fellows I worked with. I learned a lot from them. It's a very driven group, and I always felt supported. Anytime I needed anything, I'd go to them first.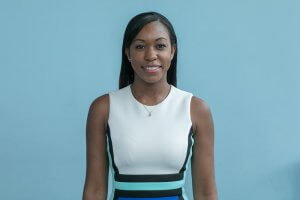 Colleen, can you tell us about yourself and your journey to AF?
I'm from Queens originally, and I went to Spellman College in Atlanta. I taught in Chicago and earned my masters at Northwestern before coming back home to New York.
I always knew that I wanted to do work that would benefit kids, but I didn't think I'd be a teacher. Originally, I was focused on research and planned to study the brain and behavior—why kids do what they do. When I was studying psychology and neuroscience, we did so much research with rats, and I realized "no, no I want to be with the kids." Then I looked for different teaching programs and started as part of an inner-city teaching corps in Chicago.
The reason why I got into teaching was because of kids and the joy that they bring to the world. I saw that there was a need because growing up, the kids in my neighborhood had different experiences based on their school. I wanted to know why it was that within the same school system, some are successful, and some are not. I wanted to get into work that would help kids be successful.
Now, I've been with AF for nine years. I started at AF Brownsville as a teacher, then a dean. When I was a curriculum fellows facilitator, I was also a grade level leader and helped coach writing. I spent some time at AF Hartford. This year, I was the founding principal of AF Voyager Elementary, and next year, I will be the principal of AF Endeavor Elementary.
That's such an inspiring journey! How did Curriculum Fellows help prepare you for your leadership roles?
I gained the ability to present in front of my peers and really develop my understanding of the curriculum and where I wanted it to go. I learned more about coaching as I helped teachers prep for their lessons.
Can you share one of your takeaways from the program?
It is the connections that I made with people who taught writing across schools. Now, I can still see them, and we have that bond. We taught together. Also, there was one third grade unit that we did on the rainforest, and I always remember that as being really fun.
The program provides an opportunity for people to try their hands at leadership and to have a wider impact on students across the network. If you have a passion for curriculum, you should apply to the program because you can make sure your voice is being heard.
Thank you for sharing, Jordan and Colleen! For more information on the curriculum fellows program reach out to Lian States. If you are a current AF teacher and interested in the Curriculum Fellows program, please fill out this application. If you're interested in teaching with AF, we're hiring! Visit our careers page to learn more.