Throughout Black History Month, we are celebrating important leaders in Black History and the scholars whose dreams they help make possible. Dwayne McDuffie is a pioneer in the entertainment and comic book industry.
Comic Book Pioneer
Who are the superheroes in comic books? For a long time, they were mostly white. Characters of color were relegated to the roles of villains or misrepresented and stereotyped sidekicks. Dwayne McDuffie helped change all that.
McDuffie was a comic book and television writer best known for writing and producing Justice League Unlimited, Ben 10, and Static Shock. He also co-founded a Black-owned comic-book company called Milestone Media. McDuffie had an impressive career, working for industry titans like Marvel and DC, but never felt like he could relate to the characters he wrote about. In fact, in a New York Times article McDuffie said, "You only had two types of characters available for children, you had the stupid angry brute and the he's-smart-but-he's-black characters … There was no diversity and almost no accuracy among the characters of color at all."
At Milestone Media, McDuffie had greater control, and DC distributed Milestone's comics. This was his opportunity to create heroes who looked like him and break the stereotypes assigned to Black characters in comic books. McDuffie created characters like Static, Icon, and Hardware, all African-American; Xombi, who is Asian-American; and the Blood Syndicate, a diverse crime-fighting group of characters, according to The New York Times. Although McDuffie passed away at an early age due to heart complications, he left a lasting impact in the world of comics. He's an inspiration to many, including scholars like Kalel.
Kalel, seventh grade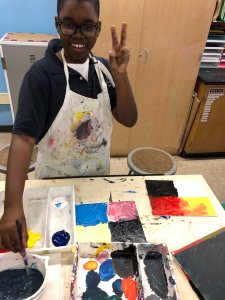 McDuffie was creative, smart, and wrote about issues he cared about, much like Kalel, a seventh-grader at AF Bushwick Middle. Kalel describes himself as a writer, artist, and aspiring animator. He's always had a passion for art and storytelling. His notebooks are full of characters, storyboards, and sketches. His most recent comic book series, Dan Days, features unique characters and their wild adventures trying to survive a capitalist society and fighting money-hungry colleagues.
Like McDuffie, Kalel enjoys writing about the heroes in his comics—heroes like Dan, Hank, and Steven who stop villains like the Money Goblin from taking over the office and turning it into an evil empire. Kalel has already created eight comics and plans to keep writing more.
What does Kalel want to be when he's older? An artist. He knows the impact people like McDuffie have made in media and one day, Kalel hopes to leave his mark too.
For more inspiring moments in Black History and American History, check out our previous posts on Instagram and our AF blog.