We're proud to celebrate Hispanic culture, heritage, and traditions all year long, but especially this month. We're sitting down with students like Amaya, a fourth-grader at AF Bushwick Elementary, to hear what Hispanic Heritage Month means to her. 
Tell us about yourself. 
My name is Amaya, and I'm in fourth grade. I mostly like to spend time with my family and celebrate the holidays with them like New Year's Eve, Christmas, and birthdays. Another thing about me is that I like doing many things outside of the house. Sometimes I like to go biking, and I also like to read books. 
That sounds so fun! What kind of books do you like to read? 
I like to read chapter books like a book called "Wonder." It's about a boy named August. The lesson of the story is don't ever bully someone because they are unique and different from you. So I try not to judge anyone who is different than me.  
That's a great lesson! So this month we're celebrating Hispanic Heritage Month. Why is being Hispanic important to you? 
It's important because you can do many other things instead of just speaking English. You can also speak Spanish. Speaking Spanish can be helpful when you get a job because you will probably have coworkers who also speak Spanish, and they'll be able to understand you.  
What are you going to do at school to celebrate Hispanic Heritage Month?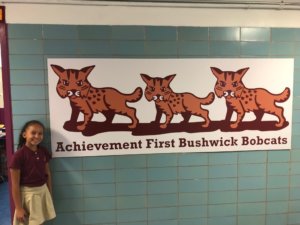 I'm going to celebrate Hispanic Heritage Month by speaking Spanish for an entire day at school. My birthday is September 30, but we don't have school that day so I'm going to speak Spanish all day on October 1. And if people don't understand me, I will translate for them.
Happy Early Birthday! That's an awesome idea! One last question: what do you want to be when you grow up? 
I want to be a gymnastics teacher because I'm very flexible, and I want to teach others how to do something they don't know how to do. 
Thank you for sharing Amaya!