Damoi is a junior at AF Brooklyn High. His class had the opportunity to attend a special matinee of the Broadway musical "Hamilton," and Damoi was selected from hundreds of students to perform before the show! We sat down with him to get the scoop on his experience. Make sure to scroll down to see Damoi's performance!
Damoi, you had a chance to rap on stage at a Broadway theater AND see "Hamilton," which is SO cool. Walk us through it—what happened?
I've been rapping and performing at school for a while. My AP U.S. history teacher Ms. Noh told us that we were going to see "Hamilton," and we had a few days to make a creative piece to get to go. I thought it would be good to write a rap. After I turned it in, Ms. Noh emailed me and told me all the schools had to send in the best project, and she wanted to submit mine. So we recorded me doing the rap, and she sent it to the organization [The Gilder Lehrman Institute] that was sponsoring the trip to "Hamilton." And then she sent me another email to tell me that they picked me out of everyone to perform on stage!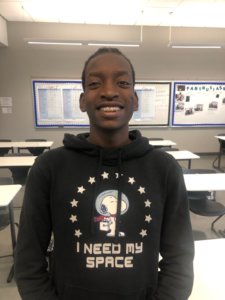 Wow! It's awesome that you got selected! Tell us about your rap.
I didn't have a lot of time to write, so I picked something that I didn't have to do much research on: the constitutional convention. The convention was largely a dispute between the north and south about slavery. I thought it would be best to capture multiple perspectives in one rap, so I have the middle man, the north, and the south. The middle man was me as I went on the stage, and he represents the founding fathers. When I was saying the ideas of the north, I moved north on the stage, and when I did the south, I went south.
Clever. In the video, there's so much applause that you had to pause your performance. How did that feel?
When we got there, I went backstage. I was nervous about one phrase in my rap. I'd been practicing at school, but I wished I had one more day so that everything could be down pat. And then I did it, and it was great. I was relieved because my piece had a lot of historical references that I wanted people to get. When I performed, there was a bunch of clapping, so I knew the audience was getting the references and the emotions I wanted, so I was happy.
Of course! How did you first get into music and rapping?
I've been rapping since fifth or sixth grade. My phone has so many raps on it, and I perform at church. My topics are spontaneous—they can be anything that I'm feeling or experiencing. Whenever I'm in a mood to rap, I will get a beat online, or freestyle. I tend to rap fast, but I can slow it down and add substance. I get a lot of inspiration from my music teacher, Mr. Rose. He showed me how to express myself professionally and start playing instruments. I play drums, piano, and the steel pan. I'm always rapping in my free period and other classes, and my teachers ask me to present my raps. It encourages me to keep pushing.
When you're not doing something musical, what do you like to do?
Besides being pretty much a full-time musician, I play football. I like math and science. Oh, and I like history because it has interesting facts that people overlook. But if I make a rap, people can see them and get the things I'm referencing.
So what did you think of "Hamilton"?
I'd never heard the soundtrack before, and this was my first Broadway show. It was engaging because we got to see things we've learned about in school in a musical way. It's intriguing. We kept seeing this and that event that we learned about in class. That made it more enjoyable and memorable, which is good because history is remembering the past.
That's a great way to describe it. As we wrap up the semester and 2019, can you tell us what you have planned for next year?
I'm going to continue practicing my music. I'm looking forward to when its warmer so I can perform outside of school and showcase what I can do. All my classes are AP classes, so I'll be keeping up with that and keeping up my grades. And I want to relax during Winter Break.
Sounds like a plan. Thanks for sharing, Damoi!