As we continue to reflect on the Smarter Balanced Assessment Consortium (SBAC) results, we're seeing tremendous gains across our network in Connecticut. This week, we're shining the spotlight on just a few of these bright spots. Today, we're heading to New Haven, and you can learn more about what's happening in Bridgeport here.
At Elm City College Prep Elementary, fourth graders are topping the state average in both ELA and math and outperforming their affluent peers in Fairfield and Greenwich in math.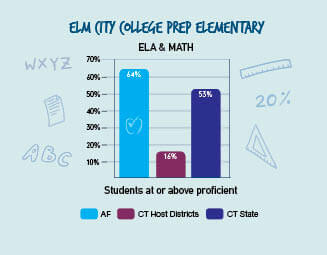 These results show promise and progress, but there's more to it than just numbers. To bring you the stories of the teachers and students working hard to make this happen, we sat down with the school's principal, Andrew Poole.
Where were you when you learned about your SBAC results? Who was the first person you called or texted?
Our Dean of Students was walking the team through the cafeteria when I saw an e-mail about the results. I ducked out for a minute to look at the data. I quickly wrote down our results, and as soon as our Dean was finished I shared the results with the team.
Can you share a story that speaks to the level of commitment a specific student had in preparing for the SBAC?
All of our scholars showed incredible commitment as they prepared for the state test. This included giving their all during class and spending lunch, after school or Saturday mornings with teachers. Many students, especially our 4th graders, asked for this extra support. Their desire to embody our state test rallying cry – "best of the best" – drove them to give their best effort and seek out help when they needed it.
What about a teacher?
Our entire team works so hard year after year. We talk a lot about the fact that our 3rd/4th grade test results are all our results. They are the product of the work we have done since Day 1 of Kindergarten. Because of this, I truly believe that our entire team demonstrated ambitious persistence. We had a 1st grade teacher staying after school tutoring our 3rd grade mathematicians. We had members of our Ops teams running meetings with our scholars supporting them on how to give their best. Our Deans led interventions groups. We all worked together to achieve the results. We will continue to work together as we drive to achieve even stronger results next year.
If you were going to pick a song that symbolizes how you feel about your team, what would it be?
Every year, we write an original song to get hyped up for SBAC. Here's an excerpt of the lyrics (to the tune of "Panda").
It's time for SBAC again
Everybody, go and tell your friends
3rd and 4th grade teams
Best of the best, we never left
Good grades are coming
We're ready to see this test
Beat it, defeat it
Milly rock and sweep it
Studying is a habit
What you know about us?
The way our pencils move
You'd think we practiced magic