As we continue to reflect on the New York State Test results, we're seeing glowing highlights across our network. This week, we're shining the spotlight on just a few of these bright spots. So far, we've taken a closer look at AF Bushwick and East New York schools. Today, we're heading to AF Endeavor Elementary as we wrap up.
At AF Endeavor Elementary, 71% of students are proficient in ELA and math, which is a 21 percentage point increase from 2015.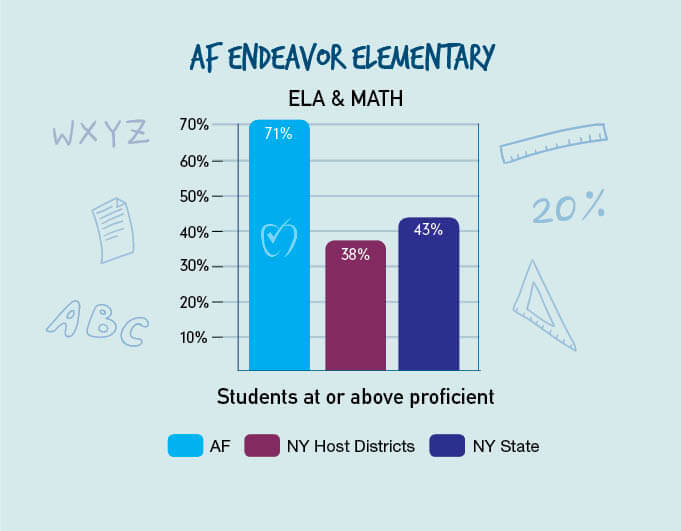 These results tell an amazing story of progress and hard work, but there's more to it than just numbers. To bring you the stories of the teachers and students who are moving mountains to make this happen, we sat down with Principal Sarah Lewis.
Where were you when you learned about your NY State Test results? Who was the first person you called or texted?
On the day I received the news, we were hosting our leaders just before our entire staff returned from summer vacation the next day. Our Director of School Operations sent us an email that read, "The state test scores are in."
My heart fluttered.
I quickly responded, "Bring them upstairs." As soon as she entered the meeting room, I jumped up from the table and had our dean continue the meeting, so I could run out with a few others to view the scores. Once we had quickly determined the highlights, the first person I called was Kerri-Ann Thomas, our former math dean (she's now the principal of AF Hartford Elementary) to congratulate and thank her for her incredibly hard work with the third and fourth grade STEM team.
Can you share a story that speaks to the level of commitment a specific student had in preparing for the test?
Immediately I think of King, a fourth grade student. He went above and beyond to prepare for the math portion of the test. King stayed after school for every review session his teachers led, completed every extra work packet given, and even created his own study guides at home. His teachers spoke with smiles as they told me – "I received yet another invitation to view a Google Doc named, 'Time to Crush the Core' from King." There were 9 pages of questions that he wrote with his brother. The topics ranged anywhere from his fish battling his dad's fish, to "If I can Milly Rock 32 times in 1 minute, how many Milly Rocks can I do in 18 minutes?"
It was because of this commitment that he earned a 4.
What about a teacher story?
All four of our Math teachers rose to the occasion. Justin Tesser stepped in from science, early on in the year to ensure our kids had excellent instruction. Jacob Fields taught extra math classes, tutoring, and Saturday sessions. Alivia Nuzzo, who had taught kindergarten two years prior, truly owned her move to third grade and showed her passion for the content. Cait Farrell's daily use of data kept students pumped about how much they were growing day after day. And I want to shout out the ELA teachers as well! Sierra Strattner is a teacher leader and was constantly transparent to improve her craft and made reading fun for kids. Abby Robbins was never without a small group of children around the table, assisting them with their understanding of difficult passages. Kerriann Herry made sure that her students were identifying the central idea, and invited help from teachers of other grades to ensure every student received the support they needed. Steph Levee provided more one-on-one support to those who needed it most. Failure was never an option!
If you could pick a song that symbolizes how you feel about your team, what would it be?
Andra Day's "Rise Up. It speaks to constantly striving, daily coming back to the drawing board, and not letting less-than-best keep us from fighting harder for our children each and every day.
Thank you, Sarah! And thank you and congratulations to all of our leaders, teachers, and students for their tremendous efforts this year. To learn more about Achievement First's New York State Test results, visit our website.