As we continue to reflect on the New York State Test results, we're seeing glowing highlights across our network. This week, we're shining the spotlight on just a few of these bright spots. On Monday, we took a closer look at AF Bushwick schools. Next up, we're heading to East New York.
Both AF East New York Elementary and AF East New York Middle students more than doubled the proficiency rates of their host districts. Across ELA and math, elementary students outperformed their host districts peers by 36%, and our middle school students did so by 42%.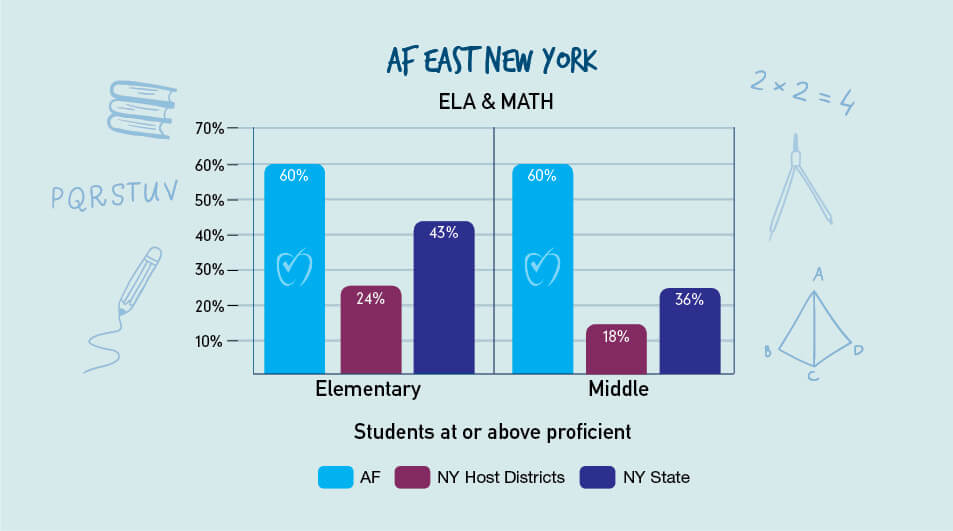 These results tell an exciting story of progress and hard work, but there's more to it than just numbers. To bring you the stories of the teachers and students who are making these incredible gains possible, we sat down with Injy Sullivan, principal of AF East New York Elementary Injy Sullivan, principal of AF East New York Elementary.
Where were you when you learned about your New York State Test results? Who was the first person you called or texted?
I was at training with our new staff when other AF principals started texting me "Congratulations!" I had no idea what was happening until I checked my phone and saw the data. I decided to email the results to my leadership team rather than call a meeting because I knew I was not going to be able to keep my composure if I told them in person. Despite knowing in advance, when we finally had a chance to meet, we all cried anyway.
Can you share a story that speaks to the level of commitment a specific student had in preparing for the test?
The greatest thing about our results is the fact that we truly feel that we prepared our scholars without doing a whole lot of "test prep." Our children have been preparing for this test, their high school AP tests, the SAT and ultimately their college exams since they entered kindergarten. Great teachers who set a college-ready bar are able to make their day-to-day instruction rigorous enough so that when something like the New York State Test comes along, their scholars attack it with as much vigor as they tackle each and every assignment that they receive in school. After the state exams this year, I was chatting with two twin boys who have attended our school since kindergarten. They both insisted that the test was "easy" in comparison to our internal interim assessments. At first I was a little skeptical, but lo-and-behold, they both earned 4s in ELA and math!
What about a teacher story?
We celebrated not only the third grade teachers who taught our scholars, but also our kindergarten, first and second grade teachers who paved the way for our students to "bust that test," as we say. When I think about why we saw the dramatic gains that we saw in third grade, I believe a huge part of what made that happen was the increase in our staff retention over the past few years across all grades. Our work is not easy. We have a long school day and incredibly high expectations for kids and teachers, yet our teachers have stayed and dedicated themselves to improving their practice year-after-year, and now have achieved the highest scores on the ELA test that we've ever had.
If you were going to pick a song that symbolizes how you feel about your team, what would it be?
Ask any staff member of the AF East New York Wolf Pack, and they will tell you that our theme song is "Started from the Bottom (Now We're Here)." During training, after I shared the third grade results with the whole school team, I played this song. Even though we still have a lot of work to do, we've come so far and couldn't be prouder.
Thanks for sharing with us, Injy! Check back on Friday to hear from another principal in our network.