As we continue to reflect on the Smarter Balanced Assessment Consortium (SBAC) results, we're seeing tremendous gains across our network in Connecticut. This week, we're shining the spotlight on just a few of these bright spots. First up, we're heading to Bridgeport.
AF Bridgeport Academy Elementary students earned an overall proficiency rate that outpaces the state by 12 percentage points. Their scores show an improvement of 27 point in ELA and 31 points in math compared to 2015. AF Bridgeport Academy third graders are now outperforming Fairfield and Greenwich in math.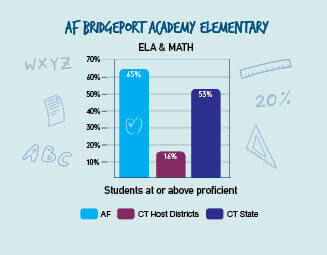 These stats show a lot of progress, but there's more to it than just numbers. To bring you the stories of the teachers and students working hard to make this happen, we sat down with the school's principal, Christina Pares.
Where were you when you learned about your SBAC results? Who was the first person you called or texted?
I got a text about the results from Morgan Barth (who was our superintendent last year and is now principal of AF Amistad High) while I was wrapping up in my office. The whole school was heading downstairs for dismissal and there I was, fumbling through my phone and emails to see the data. I sat in my chair and loudly clapped and hollered… all by myself! Typical me.
Then I sent out a text to my Leadership Team that we were going to have an emergency meeting by the buses. We huddled up, hollered and high fived each other. Of course, we also had to call one of our deans on maternity leave over the speaker phone to tell her the news. There were tears, cheers and a lot of smiles!
Can you share a story that speaks to the level of commitment a specific student had in preparing for the SBAC?
We had two scholars, Xavier and Kanye. They ended at a proficiency level of 1 the previous year. With a ton of love, hype and relentlessness, they rose to the occasion and scored 3s! I'll never forget the time they spent on the first mock exam and how invested they were. There were the practice blocks during the day, extra hours of tutoring after school and on Fridays. We are just so darn proud of them!
What about a teacher?
I wish we caught this moment on video. After sharing the results, our 4th grade Writing and Lit teachers immediately hugged (with tears!). It was such a special moment. These are two teachers who believed in our students so much, despite the ups and downs of our year in ELA. Hours of prep, coaching and working with the entire 4th grade team for alignment really helped push us toward where we wanted to be.
If you were going to pick a song that symbolizes how you feel about your team, what would it be?
I have to bring out my musical theater side and pick the song, "If You Believe" from The Wiz. I remember moments where we, as a leadership team, felt we were pulling our hair out trying to figure out next steps. We reflected on our own practices and sometimes questioned our own decisions. But now, I feel we're a team that says, "this is just what we do." Pushing to get to our goals required a belief in ourselves, teachers' belief in us and themselves and scholars' belief in themselves, as well.
The image I have in my mind is of one of our scholars, with his hands folded, praying before he took the last ELA mock test. That was his thing—it was important to him, and he knew his teachers believed in him. So for all of our scholars, we want them to say, "why shouldn't I believe in me, too?"