Mariangely Solis Cervera is the founding Spanish teacher at AF East Brooklyn High.
I am a Latina. I am proud of that identity and I want to help instill that pride in others. But that identity wasn't affirmed by anyone outside my family until I was in college. I teach because I want to change that for kids. My father taught me to be proud and my mother taught me to be humble. That balance has been very helpful.
My mom is Mexican, my dad is Puerto Rican and I was born and raised in Puerto Rico. There, the word 'Hispanic' was nonexistent to me – you're born on the island, you're like everyone else. Then, we moved. The moment I set foot in California, I was different. I was the kid who didn't speak English, the kid whose parents didn't speak English. I went from being like everyone else to being "the other."
I didn't see a lot of role models who were like me. Even through college, I could count the number of Latina teachers I had on one hand. Thankfully things changed my last year of undergrad. I met my mentor, the first professor who could speak to me directly about things like, "this is racism and this is how it affects you explicitly and implicitly." She showed me what a big deal it was that I was an ESL student, daughter of parents who didn't speak English, daughter of a dad who didn't finish high school, and made it as far as I had. She challenged me to use my story to impact others. This was the first time someone called me something other than a good student. She called me a "mujer with a story." It was no longer enough to just do well in life; it was time to help la causa, el pueblo.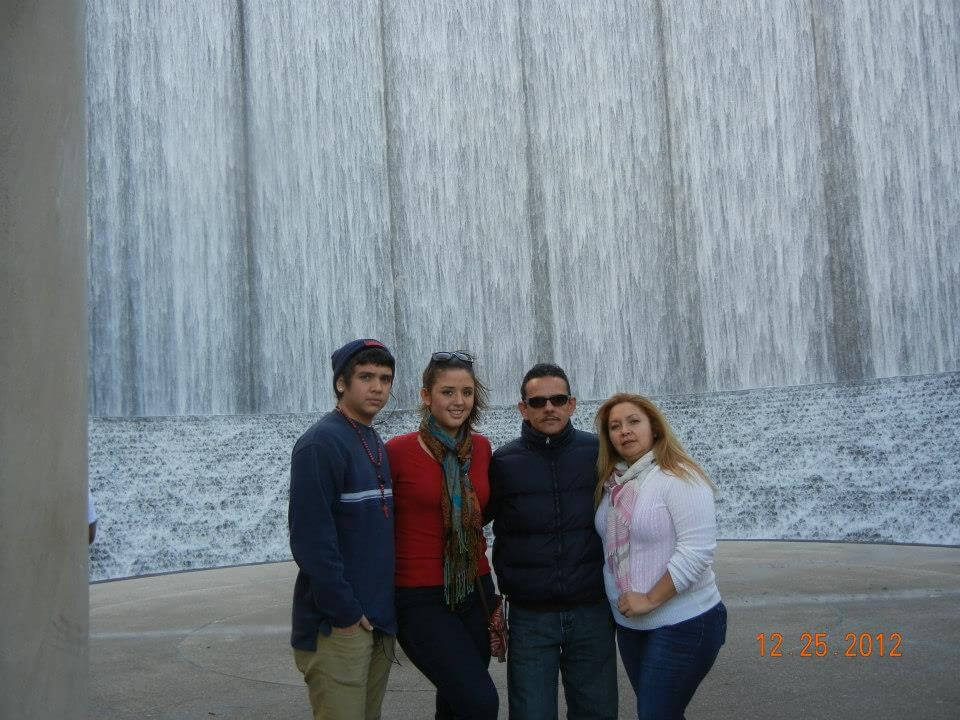 Mariangely and her family.
Teaching seemed like the only field where I could do this, and Teach For America was my outlet. I taught in Houston for four years before coming to Brooklyn. My current struggle is, what do I do now with this power and knowledge that I didn't have five years ago? In my class, we talk about things such as identify, people's history and the importance of being bilingual/bi-cultural. As a teacher of color, once I made the choice to get in front of a group of kids, it became my responsibility to be purposeful about my impact because I am a mirror to many of my students: Latina, woman, queer, language learner, first generation college student, bilingual and a member of a beautiful yet underappreciated culture.
I'm teaching beginner Spanish and an intermediate class for native Spanish speakers. We're reading the novel "Casi una mujer" by Esmeralda Santiago. It's been great so far because I am able to take kids on a journey of self-exploration in a safe and affirming environment. I have ninth graders asking me questions like, "why is the language Spanish so sexist?" "What should I do if my family is also very judgmental?" "Why are Latinos all so different?" or  "Why can't I call someone Spanish if they speak Spanish?" Had it not been for my mentor, I never would have understood how racism, classism, sexism and homophobia affect me and my community every single day. I am honored to guide students in this process.
As a Latina teacher I make sure I'm affirming kids' identities while also pushing kids to love and affirm others. It's my duty to make sure I'm sending this message to students and colleagues. I tell my students, "Don't be afraid to ask people, learn from them." We always talk about stories in my class—if you don't want to judge a book by the cover, you need to read the story. I want to help my students realize that our world is a painful place to live in partially because too many people rely on the one story being shared by stereotypes in the media. If we work a little harder at creating safe dialogues with one another, we can have a more welcoming world.