Kierra Bussey teaches Spanish at AF Crown Heights Middle School. As we continue our celebration of Hispanic Heritage Month, Kierra reflects on how learning Spanish as a second language has affected her life, and shares her goals for passing on the love of language and travel to her students.
I can still remember the sense of wonderment that I felt when I was formally introduced to Spanish by my 8th grade teacher. Before me was an African-American women who spoke fluent Spanish. It was so powerful to have her as a role model who reflected my own identity. Learning from her, I began to think that I too could learn to speak fluent Spanish. She talked about her experiences abroad with so much enthusiasm and passion that I could imagine those places. From that point forward, I dedicated myself to learning Spanish. I wanted to emulate the beauty of the language and visit places where I could learn about cultures that differed from my own.
As a college freshman, I invested in a passport, not knowing when I would actually get to use it. My journey to study abroad was long, and at times, it seemed out of reach. Studying abroad was the most profound experience of my college career, and it ultimately shaped my decision to become a teacher.
I double majored in Communications and Spanish, aspiring to become a bilingual immigration attorney. Admittedly, at times, I felt very disadvantaged in my Spanish program because many of my peers spoke with greater proficiency and possessed cultural capital that I lacked. Instead of getting discouraged, I became even more curious, seeking those who would share their perspective with me. I sought language immersion locally through an internship with Al Día, a bilingual newspaper in Philadelphia.
My opportunity to study abroad finally came the summer of my junior year and took me to Oviedo, Spain. The time I spent in Oviedo instilled in me a passion for global travel that stays with me today. While there, I met a women, with whom I still keep in touch, who was a part of an organization called, Asociación de Ecuatorianos Residentes en Oviedo (Association of Ecuadorian Residents in Oviedo). She was hosting a student who I had met and invited us to teach English to elementary aged students three times a week. I still remember the gleam in their eyes as we worked with them, and their excitement at forming words and phrases that were new to them. Needless to say, I wish I could've had that experience sooner!
While in Spain, I found an inner strength that I didn't knew existed. There I was navigating a community, which was unfamiliar to me, but I surprised myself by doing more than what I thought I was capable of by simply taking risks (like teaching English). There was no backing out of the experience because I felt uncomfortable or didn't "fit in." These are all things that I began to apply to my life upon returning home. I also discovered a love of teaching that led me to join the Teach For America program.
Since my stint abroad, I have participated in many immersion programs. Most recently, I went to Salamanca, Spain, where I earned a partial scholarship to attend ELE (espanol como una lengua extranjera) classes, courses for teaching Spanish. All of my travel experiences have inspired me to pass along what I've learned to the students in my class when we travel abroad together this spring.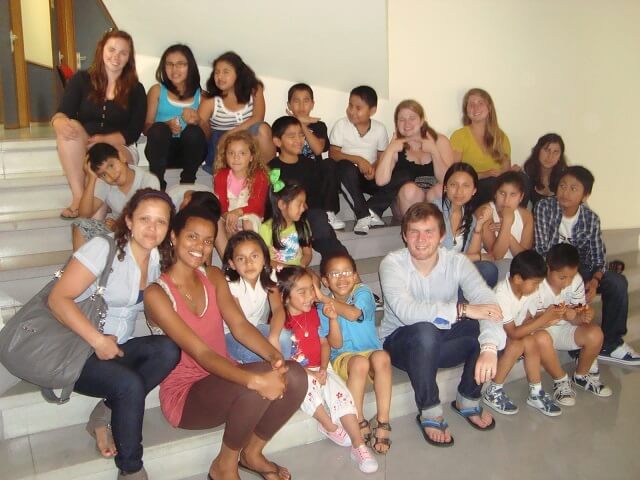 Kierra with the Association of Ecuadorian Residents in Oviedo, during the last day of tutoring.
While I know study abroad at the middle school level is rare, I want to normalize it for the students we serve at Achievement First. I want to help my students' shape their narratives and expand their sense of self—they are truly hardworking, and motivated by a desire to learn. We'll attend a cultural immersion program in Costa Rica. I envision our trip as seven days of self-discovery where students will authentically engage in new experiences that will enrich the intellectual curiosity they're already building.
During my study abroad experience, I was one of two African-Americans of many international universities. As a result, when people interacted with me, they did so with curiosity. I never felt out of place per se, but used the opportunity to learn how interact with people different from me. I want to expose my students to places and cultures where they may not see their identities reflected, so that they are able to navigate those spaces, and the ones back home, successfully, and with confidence.
Every time I travel, I reflect on that moment when I first received my passport. It contained blank pages and an unwritten story. I look where I am now and am so grateful. Now, my goal is to share this experience with my students, who also deserve the opportunity to write their stories of their educational and personal journey, both here and abroad.
Kierra and her students are currently fundraising for their cultural immersion trip to Costa Rica in the Spring of 2017. To donate, visit her Go Fund Me page.