Whether you're planning to spend your spring break sunning on a beach or relaxing on a couch, you're going to need some reading material – because frankly, your students aren't the only ones who should be reading during time off from school. To help you recharge, we've put together a short list of books that will give you some fresh inspiration, insight, and even a few good laughs. You don't even have to write a book report. Happy reading!
I Am Malala: The Girl Who Stood Up for Education and Was Shot by the Taliban by Malala Yousafzai, with Christina Lamb
Jon Stewart wants to adopt her, and so do we. Malala, the Pakistani education activist and youngest-ever winner of the Nobel Peace prize, has written a book that should be required reading for all educators, or better yet, all humans. Your assignment: Read this book, and follow it up with a viewing of the 2015 documentary film He Named Me Malala.
Between the World and Me by Ta-Nehisi Coates
Coates's memoir-manifesto, written as a letter to his 15-year-old son, is an intensely personal look at racial injustice in America. The winner of the 2015 National Book Award for nonfiction, Between the World and Me lays bare some hard truths and offers no easy answers. Instead, says The New York Times, Coates "challenges us to wrestle with the questions on our own."
The Curious Incident of the Dog in the Night-Time by Mark Haddon
Haddon's celebrated 2003 novel takes readers into the mind of 15-year-old Christopher Boone as he investigates the murder of a neighbor's dog and unwittingly uncovers other secrets along the way. Christopher has Asperger's syndrome. But, says Haddon, "Curious Incident is not a book about Asperger's… If anything it's a novel about difference, about being an outsider, about seeing the world in a surprising and revealing way."
Lafayette in the Somewhat United States by Sarah Vowell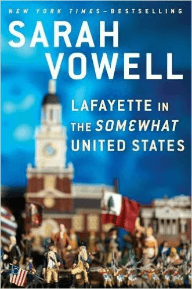 "America's favorite fighting Frenchman" – and namesake of streets and parks across the country – comes to life in Vowell's witty, irreverent look at Lafayette's role in the American Revolution. She cuts through the pomp and circumstance to portray our Founding Fathers as ordinary, flawed humans, reminding us that history is anything but dull.
The Thing About Jellyfish by Ali Benjamin
Benjamin's novel, aimed at 9- to 12-year-olds, is the story of a seventh-grader who is distraught after the drowning death of her former best friend. A 2015 National Book Award finalist, Jellyfish explores the rough terrain of grief while also touching on science topics ranging from cosmology and the expanding universe to zombie ants, the scientific method, and, of course, jellyfish.
For White Folks Who Teach in the Hood …and the Rest of Y'all Too: Reality Pedagogy and Urban Education by Christopher Emdin
By now it's a cliché: a group of unruly urban students are a lost cause… until a teacher (usually white) swoops in to save them. Christopher Emdin says this "white-hero" narrative is hurting both students and educators, and in his new book he proposes a way to change the story. Emdin, an associate professor of education at Columbia University's Teachers College, calls for an approach that values students' culture and incorporates it into the classroom. Like the title says, this one is for all of us.