At Achievement First, we believe it's so important to develop and celebrate great teachers–that's why the Teacher Career Pathway is a central part of our approach. Here on the blog, we'll be featuring the stories of teachers in all stages of their careers. First up? Master Teacher Josh Alfred. Josh has been teaching math at AF Endeavor Middle in Brooklyn for seven years. During his time with us, he's led his grade level team, served as a course facilitator, coached our future classroom leaders through the Teacher-in-Residence program and been inspired by countless students. We recently spoke with Josh so he could share his story.
What motivates you to teach?
The kids are the number one reason why I teach. Seeing them make progress has been the most rewarding part of teaching. I've kept in touch with some of my kids who are in college now, and it's always motivating to hear that they are doing really well.
My AF Endeavor Middle Team & Family is also a factor. I really like working with them!  I want to be there for them and do what's in the best interest of our students. I don't want to let them down.
Could you share one of your favorite moments?
Last year's Senior Signing Day! I had a lot of kids from my second year of teaching at AF go up on the stage and proudly share where they were going for college. Julia, one of my former students, is at Georgetown now. Seeing Julia and her peers being so successful is a powerful motivator that helps sustain my work.
How have you developed as a teacher?
A LOT. My content knowledge has grown a ton, especially with the introduction of Common Core in 2012. The huge curriculum shift pushed me to gain a deeper understanding of the concepts I teach so that I could make sure my kids were prepared.
I have also become more comfortable in being myself when I'm in front of the class. When you're a new teacher, you just want to do everything right, so it might be hard for your personality to come out. Over the years, I've learned that there is room for you to bring your personality to the classroom, even when you're just starting out.
That's so interesting! How so?
I love working out. So whenever my students catch me making a math mistake, I do five push-ups. Kids love it because my face turns bright red.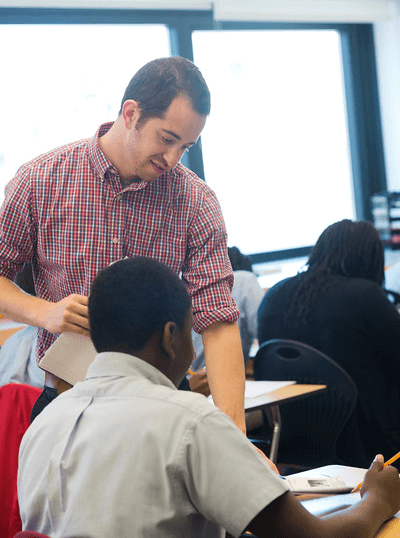 How has AF helped influence your growth?
AF has gotten me to a place where feedback is integral to my development as a teacher. I've never seen a place like AF where even the best people get feedback in the spirit of learning and development. I'm in my ninth year of teaching, and I still get observed so I can work on my practice and become even better.
Tell us more about that – you're a Master Teacher!  What are you still working on?
Absolutely. I'm always working on how to make sure that my students are in invested in what we're learning, so that they learn more and perform better. If kids are invested in math, maybe more of them will be STEM majors in college!
I also improve lesson plans no matter how many times I've revised them in the past. There's always something you could change and do better for next year.
Where do you see yourself in five years?
I see myself in education for a long time, either as a teacher or a school leader, because I really like this field. I want to see more kids graduate from college!
Could you see yourself with us at Achievement First? Learn more about job openings and apply here.